Workshop
NCCoE Virtual Workshop on Telehealth Smart Home Integration
In late summer 2021, the National Cybersecurity Center of Excellence (NCCoE) published a draft project description, Mitigating Cybersecurity Risk in Telehealth Smart Home Integration. As part of a public comment solicitation process, the NCCoE received comments during the fall of 2021. The NCCoE Healthcare team reviewed and adjudicated the comments received.
The virtual workshop will be used to gather additional insight from healthcare delivery organizations (HDOs) and technology providers on using smart home devices as part of a telehealth solution to solidify our project scope and use case scenarios. The NCCoE team would lead the conversation by describing the NCCoE's methodology, review of the draft project description, and sharing the preliminary high-level reference architecture. The NCCoE team will present some initial thoughts about a potential project to leverage voice assistant technology in conjunction with telehealth technology to improve patient quality of life in a secure manner.
The NCCoE's objectives for the workshop are to discuss, solicit feedback, and refine the scope. Through the workshop, the NCCoE seeks to ensure that the project reflects appropriate use case scenarios, captures privacy and cybersecurity challenges, and provides HDO and patient stakeholder value.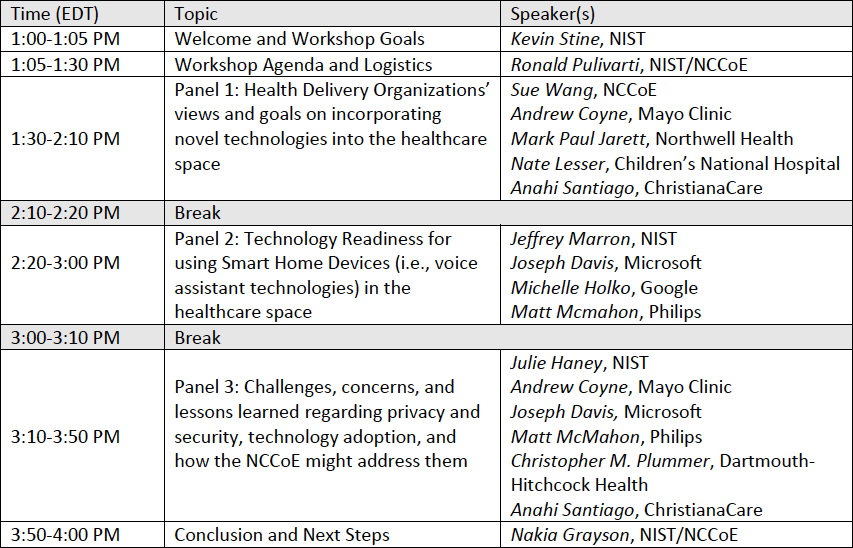 ---
Recording Note: Portions of the event may be recorded and audience Q&A or comments may be captured. The recorded event may be edited and rebroadcast or otherwise made publicly available by NIST. By registering for — or attending — this event, you acknowledge and consent to being recorded.