NIST SPECIAL PUBLICATION 1800-5B
---
IT Asset Management¶
---
Volume B:
Approach, Architecture, and Security Characteristics
Michael Stone Leah Kauffman, Editor-in-Chief
National Cybersecurity Center of Excellence
Information Technology Laboratory
Michael Stone
Chinedum Irrechukwu
Harry Perper
Devin Wynne
The MITRE Corporation
McLean, VA
September 2018
This publication is available free of charge from: http://doi.org/10.6028/NIST.SP.1800-5
The first draft of this publication is available free of charge from: https://www.nccoe.nist.gov/sites/default/files/library/sp1800/fs-itam-nist-sp1800-5-draft.pdf

DISCLAIMER
Certain commercial entities, equipment, products, or materials may be identified in this document in order to describe an experimental procedure or concept adequately. Such identification is not intended to imply recommendation or endorsement by NIST or NCCoE, nor is it intended to imply that the entities, equipment, products, or materials are necessarily the best available for the purpose.
National Institute of Standards and Technology Special Publication 1800-5B, Natl. Inst. Stand. Technol. Spec. Publ. 1800-5B, 47 pages, (September 2018), CODEN: NSPUE2
FEEDBACK
As a private-public partnership, we are always seeking feedback on our Practice Guides. We are particularly interested in seeing how businesses apply NCCoE reference designs in the real world. If you have implemented the reference design, or have questions about applying it in your environment, please email us at financial_nccoe@nist.gov.
All comments are subject to release under the Freedom of Information Act (FOIA).
National Cybersecurity Center of Excellence
National Institute of Standards and Technology
100 Bureau Drive
Mailstop 2002
Gaithersburg, MD 20899
Email: nccoe@nist.gov

NATIONAL CYBERSECURITY CENTER OF EXCELLENCE
The National Cybersecurity Center of Excellence (NCCoE), a part of the National Institute of Standards and Technology (NIST), is a collaborative hub where industry organizations, government agencies, and academic institutions work together to address businesses' most pressing cybersecurity issues. This public-private partnership enables the creation of practical cybersecurity solutions for specific industries, as well as for broad, cross-sector technology challenges. Through consortia under Cooperative Research and Development Agreements (CRADAs), including technology partners—from Fortune 50 market leaders to smaller companies specializing in IT security—the NCCoE applies standards and best practices to develop modular, easily adaptable example cybersecurity solutions using commercially available technology. The NCCoE documents these example solutions in the NIST Special Publication 1800 series, which maps capabilities to the NIST Cyber Security Framework and details the steps needed for another entity to recreate the example solution. The NCCoE was established in 2012 by NIST in partnership with the State of Maryland and Montgomery County, Md.
To learn more about the NCCoE, visit https://www.nccoe.nist.gov. To learn more about NIST, visit https://www.nist.gov.
NIST CYBERSECURITY PRACTICE GUIDES
NIST Cybersecurity Practice Guides (Special Publication Series 1800) target specific cybersecurity challenges in the public and private sectors. They are practical, user-friendly guides that facilitate the adoption of standards-based approaches to cybersecurity. They show members of the information security community how to implement example solutions that help them align more easily with relevant standards and best practices, and provide users with the materials lists, configuration files, and other information they need to implement a similar approach.
The documents in this series describe example implementations of cybersecurity practices that businesses and other organizations may voluntarily adopt. These documents do not describe regulations or mandatory practices, nor do they carry statutory authority.
ABSTRACT
While a physical asset management system can tell you the location of a computer, it cannot answer questions like, "What operating systems are our laptops running?" and "Which devices are vulnerable to the latest threat?" An effective IT asset management (ITAM) solution can tie together physical and virtual assets and provide management with a complete picture of what, where, and how assets are being used. ITAM enhances visibility for security analysts, which leads to better asset utilization and security.
KEYWORDS
asset management; financial sector; information technology asset management; ITAM; personnel security; physical security; operational security
ACKNOWLEDGMENTS
We are grateful to the following individuals for their generous contributions of expertise and time.
| Name | Organization |
| --- | --- |
| FS-ISAC | Financial Services Information Sharing and Analysis Center |
| Gorrell Cheek | Western Union |
| Joe Buselmeier | American Express |
| Sean Franklin | American Express |
| Ron Ritchey | Bank of America |
| Sounil Yu | Bank of America |
| Joel Van Dyk | Depository Trust & Clearing Corporation |
| Dan Schutzer | Financial Services Roundtable |
| George Mattingly | Navy Federal Credit Union |
| Jimmie Owens | Navy Federal Credit Union |
| Mike Curry | State Street |
| Timothy Shea | RSA |
| Mark McGovern | MobileSystem7 |
| Atul Shah | Microsoft |
| Leah Kauffman | NIST |
| Benham (Ben) Shariati | University of Maryland Baltimore County |
| Valerie Herrington | Herrington Technologies |
| Susan Symington | MITRE Corporation |
| Sallie Edwards | MITRE Corporation |
| Sarah Weeks | MITRE Corporation |
| Lina Scorza | MITRE Corporation |
| Karen Scarfone | Scarfone Cybersecurity |
The Technology Partners/Collaborators who participated in this build submitted their capabilities in response to a notice in the Federal Register. Respondents with relevant capabilities or product components were invited to sign a Cooperative Research and Development Agreement (CRADA) with NIST, allowing them to participate in a consortium to build this example solution. We worked with:
List of Figures
Figure 5-1 Reference Architecture
Figure 5-2 ITAM Reference Functionality
Figure 5-3 Typical Asset Lifecycle [13]
Figure 5-6 Network Security Network
Figure 5-8 Physical Security Network
Figure 5-9 Physical Asset Management
List of Tables
Table 4-1 Security Characteristics and Controls Mapping
Table 4-2 Products and Technologies
1. Summary¶
Companies in the financial services sector can use this NIST Cybersecurity Practice Guide to more securely and efficiently monitor and manage their organization's many information technology (IT) assets. IT asset management (ITAM) is foundational to an effective cybersecurity strategy and is prominently featured in the SANS Critical Security Controls [1] and NIST Framework for Improving Critical Infrastructure Cybersecurity [2].
During the project development, we focused on a modular architecture that would allow organizations to adopt some or all of the example capabilities in this practice guide. Depending on factors like size, sophistication, risk tolerance, and threat landscape, organizations should make their own determinations about the breadth of IT asset management capabilities they need to implement.
This example solution is packaged as a "How-To" guide that demonstrates how to implement standards-based cybersecurity technologies in the real world with a risk-based approach. We used open-source and commercial off-the-shelf (COTS) products that are currently available today. The guide helps organizations gain efficiencies in IT asset management, while saving them research and proof of concept costs.
This guide aids those responsible for tracking assets, configuration management, and cybersecurity in a financial services sector enterprise. Typically, this group will comprise those who possess procurement, implementation, and policy authority.
2. How to Use This Guide¶
This National Institute of Standards and Technology (NIST) Cybersecurity Practice Guide demonstrates a standards-based reference design and provides users with the information they need to replicate all or parts of the build created in the NCCoE ITAM Lab. This reference design is modular and can be deployed in whole or in part.
This guide contains three volumes:
NIST SP 1800-5A: Executive Summary
NIST SP 1800-5B: Approach, Architecture, and Security Characteristics – what we built and why (you are here)
NIST SP 1800-5C: How-To Guides – instructions for building the example solution
Depending on your role in your organization, you might use this guide in different ways:
Financial services sector leaders, including chief security and technology officers, will be interested in the Executive Summary, NIST SP 1800-5A, which describes the following topics:
challenges that financial services sector organizations face in implementing and using ITAM systems
example solution built at the NCCoE
benefits of adopting a secure, centralized ITAM system, and the risks of a lack of visibility into networked IT assets
Technology or security program managers who are concerned with how to identify, understand, assess, and mitigate risk will be interested in this part of the guide, NIST SP 1800-5B, which describes what we did and why. The following sections will be of particular interest:
You might share the Executive Summary, NIST SP 1800-5A, with your leadership team members to help them understand the importance of adopting standards-based IT Asset Management (ITAM) which is foundational to an effective cybersecurity strategy and is prominently featured in the SANS Critical Security Controls [1] and NIST Framework for Improving Critical Infrastructure Cybersecurity [2].
IT professionals who want to implement an approach like this will find the whole practice guide useful. You can use the How-To portion of the guide, NIST SP 1800-5C, to replicate all or parts of the build created in our lab. The How-To portion of the guide provides specific product installation, configuration, and integration instructions for implementing the example solution. We do not recreate the product manufacturers' documentation, which is generally widely available. Rather, we show how we incorporated the products together in our environment to create an example solution.
This guide assumes that IT professionals have experience implementing security products in financial services sector organizations. While we have used a suite of commercial products to address this challenge, this guide does not endorse these particular products. Your organization can adopt this solution or one that adheres to these guidelines in whole, or you can use this guide as a starting point for tailoring and implementing parts of IT Asset Management (ITAM) which is foundational to an effective cybersecurity strategy and is prominently featured in the SANS Critical Security Controls [1] and NIST Framework for Improving Critical Infrastructure Cybersecurity [2]. Your organization's security experts should identify the products that will best integrate with your existing tools and IT system infrastructure. We hope that you will seek products that are congruent with applicable standards and best practices. Section 4.6, Technologies, lists the products we used and maps them to the cybersecurity controls provided by this reference solution.
A NIST Cybersecurity Practice Guide does not describe "the" solution, but a possible solution. Comments, suggestions, and success stories will improve subsequent versions of this guide. Please contribute your thoughts to financial_nccoe@nist.gov, and join the discussion at http://www.nccoe.nist.gov/forums/financial-services.
2.1. Typographic Conventions¶
The following table presents typographic conventions used in this volume.
| Typeface/Symbol | Meaning | Example |
| --- | --- | --- |
| Italics | filenames and pathnames, references to documents that are not hyperlinks, new terms, and placeholders | For detailed definitions of terms, see the NCCoE Glossary. |
| Bold | names of menus, options, command buttons and fields | Choose File > Edit. |
| | command-line input, on-screen computer output, sample code examples, status codes | |
| | command-line user input contrasted with computer output | |
| blue text | link to other parts of the document, a web URL, or an email address | All publications from NIST's National Cybersecurity Center of Excellence are available at https://www.nccoe.nist.gov. |
3. Introduction¶
In order for financial services sector institutions to make informed, business-driven decisions regarding their assets, they must first know what assets they possess, and their status. This information provides the visibility into license utilization, software support costs, unauthorized devices, vulnerabilities, and compliance. IT assets include items such as servers, desktops, laptops, and network appliances. Technology and policy constraints make it difficult to collect and analyze IT asset data in a large enterprise composed of multiple organizations (subsidiaries and partners) spread out over diverse geographic locations.
While many financial services sector companies label physical assets with bar codes and track them in a database, this approach does not answer questions such as, "What operating systems are our laptops running?" and "Which devices are vulnerable to the latest threat?" The goal of this project is to create an integrated system that can quickly provide answers to questions like these by connecting existing systems for physical assets, physical security, IT systems, and network security into a comprehensive ITAM system. Another key consideration is the need for companies to demonstrate compliance with industry and regulatory standards.
In our lab at the NCCoE, we constructed an ITAM solution that spans traditional physical asset tracking, IT asset information, physical security, and vulnerability and compliance information. Users can now query one ITAM system and gain insight into all four of these types of information regarding their entire IT asset portfolio.
Financial sector companies can employ this ITAM system to dynamically apply business and security rules to better utilize information assets and protect enterprise systems and data. In short, the ITAM system described in this practice guide gives companies the ability to monitor and report on an IT asset throughout its entire life cycle, thereby reducing the total cost of ownership by reducing the number of man-hours needed to perform tasks such as incident response and system patching.
5. Architecture¶
5.1. Reference Architecture Description¶
ITAM refers to a set of policies and procedures that an organization uses to track, audit, and monitor the state of its IT assets, and maintain system configurations. These assets include "… computing device, information technology (IT) system, IT network, IT circuit, software (both an installed instance and a physical instance), virtual computing platform (common in cloud and virtualized computing), and related hardware (e.g., locks, cabinets, keyboards)" [11]. The cybersecurity value of ITAM is derived from some key aspects of the Risk Management Framework [12] and the NIST Framework for Improving Critical Infrastructure Cybersecurity [2], including:
selection and application of baseline security controls
continuous monitoring and reporting of asset status to a data store
implementation of anomaly detection mechanisms. Examples include deviations from normal network traffic or deviations from established configuration baselines
provision of context to detected anomalies and cybersecurity events within the reporting and analytic engine
Implementing the first two elements above addresses the Select, Implement, and Monitor aspects of the Risk Management Framework by providing a method to select a baseline, implement it (both configuration and enforcement), and detect changes in the baseline. ITAM addresses the Identify, Protect, Detect, and Respond aspects of the NIST Framework for Improving Critical Infrastructure Cybersecurity [2] by implementing the last two bullets, which identify anomalies and add context to events, aiding in remediation.
The ITAM processes supported by our reference architecture include data collection, data storage, configuration management, policy enforcement, data analytics, and reporting/visualization. The reference architecture is depicted in Figure 5-1.
Figure 5-1 Reference Architecture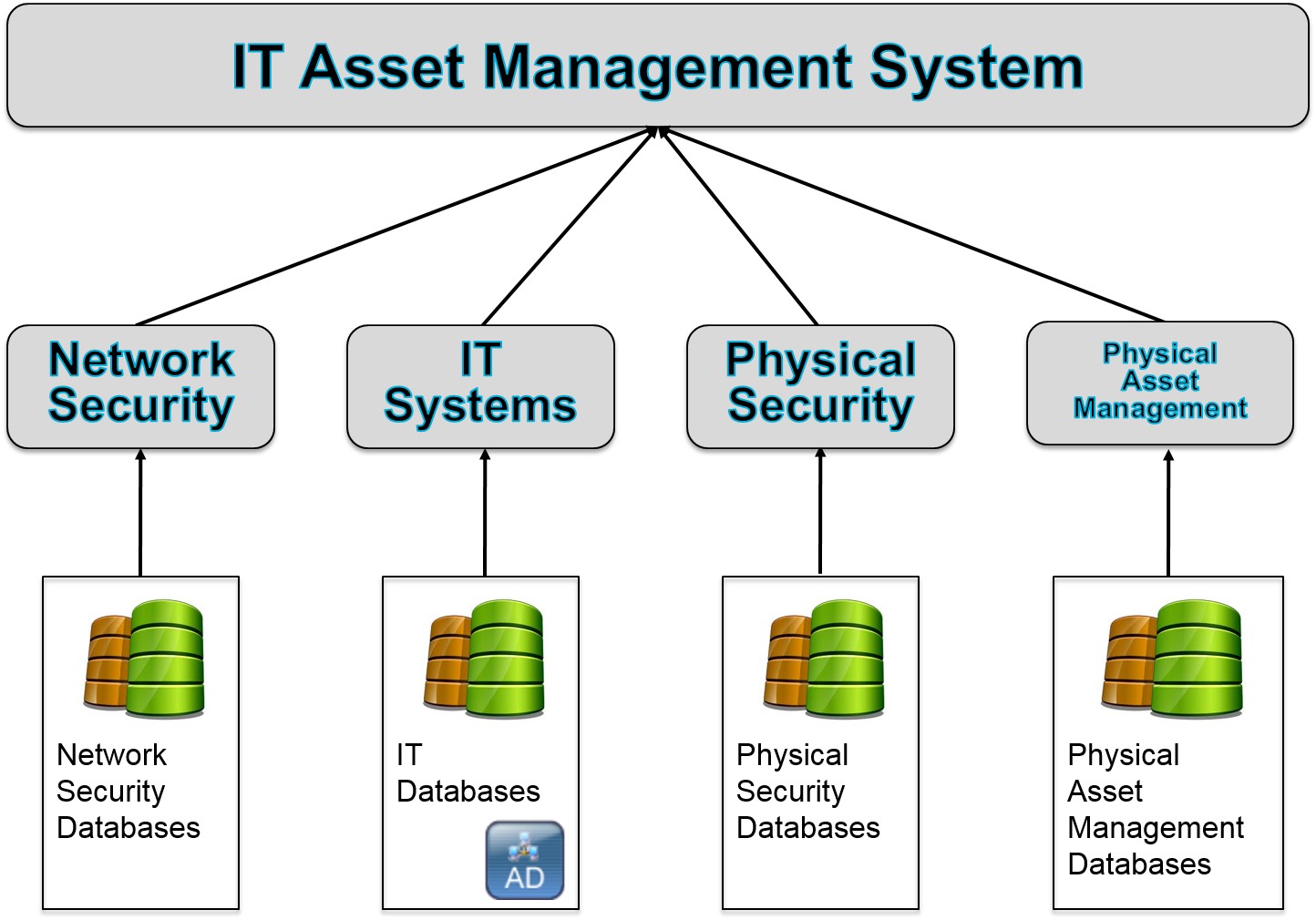 Figure 5-2, ITAM Reference Functionality, shows how data flows through the ITAM system. Tier 3 is composed of enterprise assets themselves. Tier 3 is made up of all of the assets being tracked including hardware, software, and virtual machines. Tier 2 includes the sensors and independent systems that feed data into the enterprise ITAM system. Tier 2 systems include passive and active collection sensor and agents. Tier 1 is the enterprise ITAM system that provides the aggregation of data from all Tier 2 systems into business and security intelligence.
Figure 5-2 ITAM Reference Functionality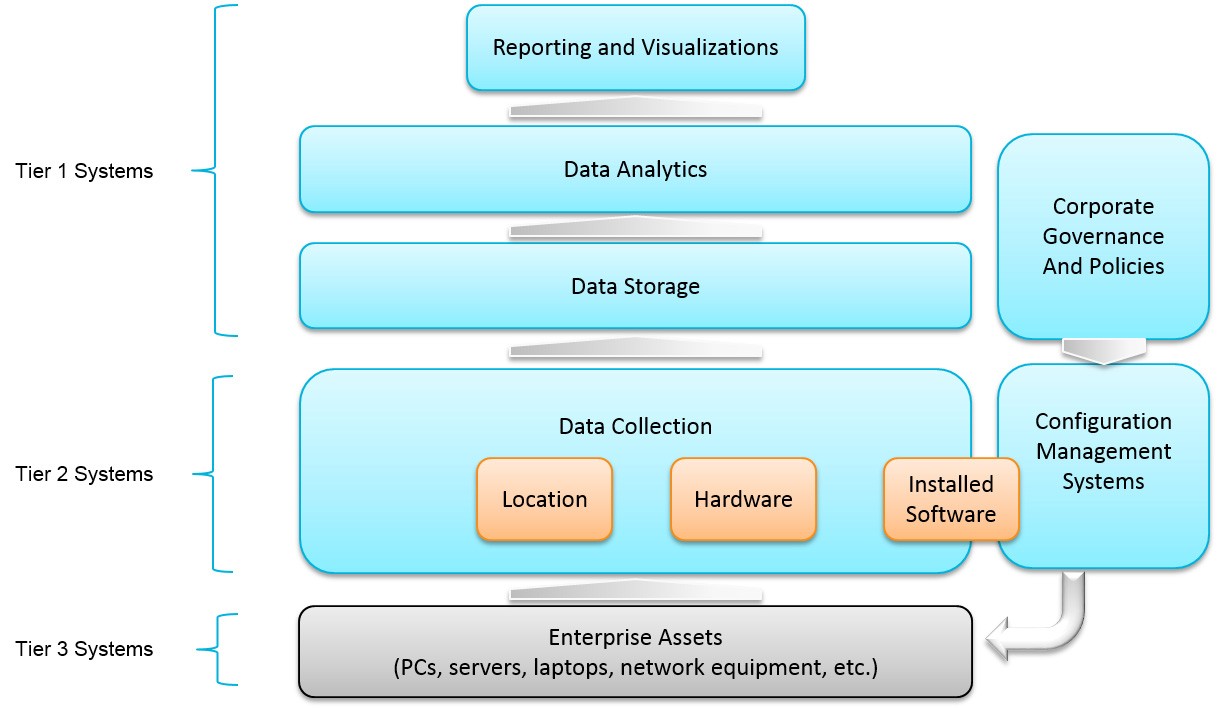 The following capabilities are demonstrated in the ITAM build (see Figure 5-2, ITAM Reference Functionality):
Data Collection is the capability to enumerate and report the unique software and system configuration of each asset and transfer that information to the Data Storage capability.
Data Storage is the capability that receives data from the data collection capability, re-formats as needed, and stores the data in a storage system.
Data Analytics is the capability that performs analytic functions on the data made available by the Data Storage capability.
Corporate Governance and Policies are all of the rules that are placed upon the IT assets. These rules can include the network/web sites that employees can visit, what software can be installed, and what network services are allowed.
Configuration Management Systems enforce Corporate Governance and Policies through actions such as applying software patches and updates, removing blacklisted software, and automatically updating configurations.
Reporting and Visualizations is the capability that generates human-readable graphical and numerical tables of information provided by the Data Analytics capability.
All six are "run-time" capabilities in that they happen periodically in an automated fashion. After performing the initial configuration and manually entering the asset into the asset database, most tasks are performed automatically. Analysts are required to perform a periodic review of the reports stored in the analytic engine to determine anomalies and perform remediation.
The architecture for this project correlates asset management information with security and event management information in order to provide context to events, intrusions, attacks, and anomalies on the network. It consists of processes and technologies that enable the enrollment, tracking and monitoring of assets throughout the enterprise. Furthermore, it provides processes to detect unenrolled or untrusted assets within the enterprise.
Figure 5-3 Typical Asset Lifecycle [13]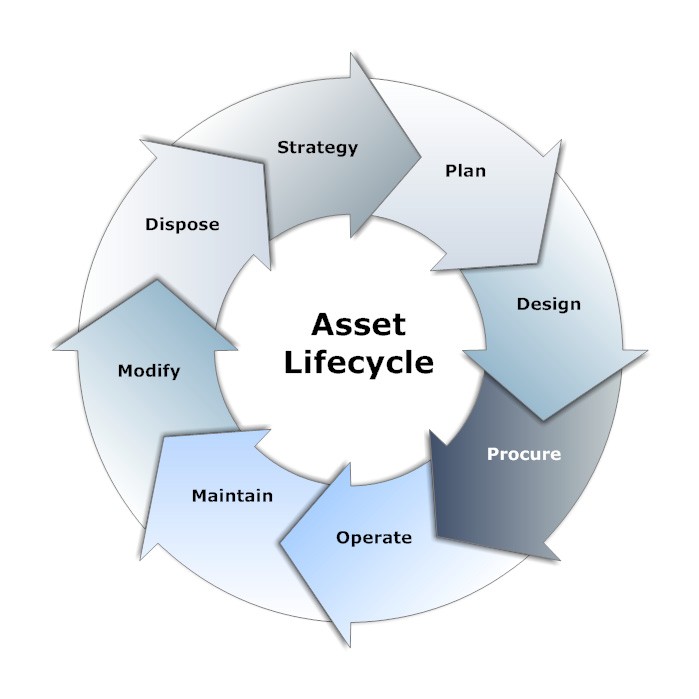 In a typical lifecycle, an asset goes through the enrollment, operation, and end-of-life phases. Enrollment usually involves manual activities performed by IT staff such as assigning and tagging the asset with a serial number and barcode, loading a baseline IT image, assigning the asset to an owner, and, finally, recording the serial number as well as other attributes into a database. The attributes might also include primary location, hardware model, baseline IT image, and owner.
As the asset goes through the operations phase, changes can occur. Such changes could include introduction of new or unauthorized software, the removal of certain critical software, or the removal of the physical asset itself from the enterprise. These changes need to be tracked and recorded. As a consequence, asset monitoring, anomaly detection, reporting, and policy enforcement are the primary activities in this phase.
The assets within the enterprise are monitored using installed agents that reside on the asset, as well as network-based monitoring systems that scan and capture network traffic. These monitoring systems collect data from and about the assets and send periodic reports to the analytics engine. Each monitoring system sends reports with slightly differing emphasis on aspects of these enterprise assets. Reports are collected regarding installed and licensed software, vulnerabilities, anomalous traffic (i.e. traffic to new sites or drastic changes in the volume of traffic), and policy enforcement status.
As an asset reaches the end of its operational life, it goes through activities within the end-of-life phase that include returning the asset to IT support for data removal and removing the serial number from the registration database and other associated databases. Finally, the asset is prepared for physical removal from the enterprise facility.
The ITAM workflow calls for enrolling the asset once it is received, assigning and recording a serial number, loading a base IT image with a list of approved software, including configuration management agents and asset management agents that start monitoring, and reporting on the assets once enrolled. These software agents collect information previously defined by administrators.
A security and configuration baseline is enforced by configuration management agents, installed software is captured by software asset management agents, and both categories of agents forward reports to their respective servers, which serve as data storage facilities. The servers format the data in a suitable form prior to forwarding these periodic reports to the analytics engine. With the visualization capability of the analytics engine, an analyst or manager can retrieve a visual report with the appropriate level of specificity. Changes that affect the asset attributes are captured in these reports sent to the analytics engine. While the ITAM system does provide some automated anomaly detection, analysts should periodically review reports to determine anomalies or relevant changes that may have occurred. Views with specific information about the assets are defined within the analytics engine, enabling analysts to detect policy violations or anomalies that could warrant further investigation. Alerts from other security information sources are also triggers for more detailed investigations by an analyst.
Detection of policy violations triggers policy enforcement or remediation if a relevant and negative alert was detected. These alerts could include, but are not limited to, newly discovered vulnerabilities or the discovery of blacklisted software. The configuration management facility would be used to enforce the removal of such software or the patching of the vulnerability on any number of hosts, bringing the enterprise into a more compliant state as defined by enterprise policy.
5.2. Reference Architecture Relationship¶
This ITAM project presents the following four scenarios:
A new laptop is purchased: the ITAM system will track the laptop from arrival, through configuration, and to its new owner. The laptop will continue to be monitored during its lifecycle.
A server is transferred from one department to another. The ITAM system is used to update the physical asset system and the server itself.
A virtual machine migrates between physical servers. The ITAM system is notified of all migrations and can alert if a policy violation occurs.
Incident detection, response, and prevention: If a sensor, such as an intrusion detection system, triggers an alert, the ITAM system should provide additional information on that asset such as configuration, location, and ownership, if possible.
The ITAM system ties into the existing silos of physical assets, physical security, IT systems, and network security to provide a comprehensive view of all assets in the enterprise. This view allows for queries, dashboards, and process automation supporting the four scenarios listed above.
Scenario 1: New devices are entered into the existing physical asset database, which sends a message to the ITAM system, which triggers other messages to be sent (IT support for configuration). When IT support configures the new laptop, that triggers numerous ITAM database updates related to hardware and software configuration. When the configured laptop is delivered to the new owner, a database update is performed recording the new ownership information.
Scenario 2: Scenario 2 is very similar to the first scenario. A machine changes ownership and is reconfigured. In this scenario, a work order is entered to transfer a server from one department to another. This work order finds its way into the ITAM system, which triggers a series of events, messages, and reconfigurations that result in updates to the databases and changes to the software on the server.
Scenario 3: The ITAM system receives a message for each virtual machine migration. These messages are checked against policy to determine if the move is valid or not. If the move is not valid, an alert is raised. These migration messages can also be used to improve performance by detecting machine or configuration issues that cause excess migrations.
Scenario 4: The ITAM system adds context to security alerts from various sensors that are already on the network. For example, if an intrusion detection system triggers an alert such as "Illegal connection 192.168.1.102 -> 8.8.8.8 TCP", the ITAM system provides all of the system information pertaining to 192.168.1.102 (the internal machine) such as machine name, operating system, configuration, location and owner. This saves the analyst valuable time and allows for more detailed event filters.
5.3. Building an Instance of the Reference Architecture¶
We built one instance of the centralized ITAM capability. This build consists of a DMZ along with network security, IT systems, physical security, and physical asset management silos to implement the workflow and the ITAM system. Each silo has its own router, private subnet, and functionality. Each silo supports aspects of the Risk Management Framework and the NIST Framework for Improving Critical Infrastructure Cybersecurity. Each silo performs data collection, data storage, data analytics, and visualization specific to each silo's purpose. Additionally, each silo integrates into the ITAM system to provide comprehensive reporting and visualizations for the end user.
A detailed list of the components used in the ITAM build can be found in Table 4-2.