NIST SPECIAL PUBLICATION 1800-4C
---
Mobile Device Security¶
Cloud and Hybrid Builds
---
Volume C:
How-to Guides
Joshua Franklin
National Institute of Standards and Technology
Information Technology Laboratory
Kevin Bowler
Christopher Brown
Spike E. Dog
Sallie Edwards
Neil McNab
Matthew Steele
The MITRE Corporation
McLean, VA
February 2019
This publication is available free of charge from: https://doi.org/10.6028/NIST.SP.1800-4
The original draft of this publication is available free of charge from: https://nccoe.nist.gov/projects/building-blocks/mobile-device-security

DISCLAIMER
Certain commercial entities, equipment, products, or materials may be identified in this document in order to describe an experimental procedure or concept adequately. Such identification is not intended to imply recommendation or endorsement by NIST or NCCoE, nor is it intended to imply that the entities, equipment, products, or materials are necessarily the best available for the purpose.
National Institute of Standards and Technology Special Publication 1800-4C, Natl. Inst. Stand. Technol. Spec. Publ. 1800-4C, 109 pages, February 2019, CODEN: NSPUE2
FEEDBACK
As a private-public partnership, we are always seeking feedback on our Practice Guides. We are particularly interested in seeing how businesses apply NCCoE reference designs in the real world. If you have implemented the reference design, or have questions about applying it in your environment, please email us at mobile-nccoe@nist.gov.
All comments are subject to release under the Freedom of Information Act (FOIA).
National Cybersecurity Center of Excellence
National Institute of Standards and Technology
100 Bureau Drive
Mailstop 2002
Gaithersburg, MD 20899
Email: nccoe@nist.gov
NATIONAL CYBERSECURITY CENTER OF EXCELLENCE
The National Cybersecurity Center of Excellence (NCCoE), a part of the National Institute of Standards and Technology (NIST), is a collaborative hub where industry organizations, government agencies, and academic institutions work together to address businesses' most pressing cybersecurity issues. This public-private partnership enables the creation of practical cybersecurity solutions for specific industries as well as for broad, cross-sector technology challenges. Through consortia under Cooperative Research and Development Agreements (CRADAs), including technology partners — from Fortune 50 market leaders to smaller companies specializing in IT security — the NCCoE applies standards and best practices to develop modular, easily adaptable example cybersecurity solutions using commercially available technology. The NCCoE documents these example solutions in the NIST Special Publication 1800 series, which maps capabilities to the NIST Cyber Security Framework and details the steps needed for another entity to recreate the example solution. The NCCoE was established in 2012 by NIST in partnership with the State of Maryland and Montgomery County, Md.
To learn more about the NCCoE, visit https://nccoe.nist.gov. To learn more about NIST, visit https://www.nist.gov.
NIST CYBERSECURITY PRACTICE GUIDES
NIST Cybersecurity Practice Guides (Special Publication Series 1800) target specific cybersecurity challenges in the public and private sectors. They are practical, user-friendly guides that facilitate the adoption of standards-based approaches to cybersecurity. They show members of the information security community how to implement example solutions that help them align more easily with relevant standards and best practices and provide users with the materials lists, configuration files, and other information they need to implement a similar approach.
The documents in this series describe example implementations of cybersecurity practices that businesses and other organizations may voluntarily adopt. These documents do not describe regulations or mandatory practices, nor do they carry statutory authority.
ABSTRACT
This document proposes a reference design on how to architect enterprise-class protection for mobile devices accessing corporate resources. The example solutions presented here can be used by any organization implementing an enterprise mobility management solution. This project contains two distinct builds: cloud and hybrid. The cloud build makes use of cloud-based services and solutions, while the hybrid build achieves the same functionality but hosts the data and services within an enterprise's own infrastructure. The example solutions and architectures presented here are based upon standards-based, commercially available products.
KEYWORDS
mobile; mobile device; mobile device management; mobility management; mobile security
ACKNOWLEDGMENTS
We are grateful to the following individuals for their generous contributions of expertise and time.
| Name | Organization |
| --- | --- |
| Rick Engle | Microsoft |
| Kevin Fiftel | Intel |
| Paul Fox | Microsoft |
| Steve Kruse | Symantec |
| Tim LeMaster | Lookout |
| Nate Lesser | NIST National Cybersecurity Center of Excellence |
| Adam Madlin | Symantec |
| Kevin McPeak | Symantec |
| Rene Peralta | Microsoft |
| Atul Shah | Microsoft |
| Steve Taylor | Intel |
The Technology Partners/Collaborators who participated in this build submitted their capabilities in response to a notice in the Federal Register. Respondents with relevant capabilities or product components were invited to sign a Cooperative Research and Development Agreement (CRADA) with NIST, allowing them to participate in a consortium to build the example solutions. We worked with ...
| Technology Partner/Collaborator | Build Involvement |
| --- | --- |
| Intel | Lenovo Miix 2.8 Mobile Device |
| Lookout | Enterprise Mobility Management Application |
| Microsoft | Microsoft Cloud Service, Company Portal, Intune, Office 365 Enterprise E3, Outlook & Community Portal Mobile Applications, System Center 2012 R2 Configuration Manager SP1, Windows Phone Operating System |
| Symantec | X.509 Certificate |
List of Figures
Figure 2-1 Cloud Build Process
Figure 3-1 Hybrid Build Process
Figure 3-2 Detailed Architecture
Figure 3-3 Detailed Architecture with Network Addresses and Host Names
Figure 3-4 List of Configured Interfaces
Figure 3-9 Management Firewall Rules
List of Tables
Table 1-1 Typographic Conventions
Table 2-1 Cloud Build Components
Table 3-1 Legend for Detailed Architecture Diagrams
Table 3-2 Hybrid Build Components
Table 3-3 On-Premise Components of the Hybrid Build
1. Introduction¶
The following volumes of this guide show information technology (IT) professionals and security engineers how we implemented the example solutions to the challenge of securing email, contacts, and calendaring in mobile devices. We cover all the products that we employed in this reference design. We do not recreate the product manufacturer's documentation, which is presumed to be widely available. Rather, these volumes show how we incorporated the products together in our environment.
NOTE: These are not comprehensive tutorials. There are many possible service and security configurations for these products that are out of scope for this reference design.
1.1. Practice Guide Structure¶
This National Institute of Standards and Technology (NIST) Cybersecurity Practice Guide demonstrates standards-based reference designs and provides users with the information they need to replicate this approach to mobile device security. This reference design is modular and can be deployed in whole or in part.
This guide contains three volumes:
NIST SP 1800-4A: Executive Summary

NIST SP 1800-4B: Approach, Architecture, and Security Characteristics – what we built and why

NIST SP 1800-4C: How-To guides – instructions for building the example solution (you are here)

Depending on your role in your organization, you might use this guide in different ways:

Business decision makers, including chief security and technology officers, will be interested in the Executive Summary (NIST SP 1800-4A), which describes the following topics:

challenges enterprises face in implementing and using mobile devices

example solutions built at the NCCoE

benefits of adopting the example solutions

Technology or security program managers who are concerned with how to identify, understand, assess, and mitigate risk will be interested in NIST SP 1800-4B, which describes what we did and why. The following sections will be of particular interest:

Section 3.4.3, Risk Assessment, provides a detailed description of the risk analysis we performed

Section 3.4.4, Security Characteristics and Controls Mapping, maps the security characteristics of this example solution to cybersecurity standards and best practices
You might share the Executive Summary, NIST SP 1800-4A, with your leadership team members to help them understand the importance of adopting standards-based enterprise mobility management (EMM) approaches to protect your organization's digital assets.
IT professionals who want to implement an approach like this will find the whole practice guide useful. You can use the How-To portion of the guide, NIST SP 1800-4C, to replicate all or parts of the build created in our lab. The How-To guide provides specific product installation, configuration, and integration instructions for implementing the example solutions. We do not re-create the product manufacturers' documentation, which is generally widely available. Rather, we show how we incorporated the products together in our environment to create an example solution.
This guide assumes that IT professionals have experience implementing security products within the enterprise. While we have used a suite of commercial products to address this challenge, this guide does not endorse these particular products. Your organization can adopt this solution or one that adheres to these guidelines in whole, or you can use this guide as a starting point for tailoring and implementing parts of a solution that would support the deployment of mobile devices and the corresponding business processes. Your organization's security experts should identify the products that will best integrate with your existing tools and IT system infrastructure. We hope that you will seek products that are congruent with applicable standards and best practices.
1.2. Build Overview¶
The NCCoE constructed the Mobile Device Security building block by using a virtualized environment and a physical wireless access point. The servers hosted by the virtualized environment were built to satisfy the hardware specifications of the specific software components in a small test environment (hard drive capacity, memory, etc.). The wireless access point was configured to use a closed lab network rather than directly internet connected. The mobile devices used in the build were configured to use this access point to simulate usage outside the traditional corporate network boundaries. Readers of this guide should assess the hardware needs of their environment carefully before implementation. Further, this build requires internet accessibility for some of the on-premise components that connect to commercial cloud services. We recommend configuring your firewall or other equipment to allow only internet access from on-premise systems to a specific internet protocol (IP) space provided by your cloud provider.
Finally, this document makes heavy use of screenshots from cloud services set up through a web browser. The reader should be aware that the rapid development of cloud services may cause some differences in what is presented here with screenshots and what the implementer experiences. Refer to vendor documentation to address significant variations.
1.3. Typographic Conventions¶
The following table presents typographic conventions used in this volume.
Table 1-1 Typographic Conventions
| Typeface/Symbol | Meaning | Example |
| --- | --- | --- |
| Italics | filenames and pathnames, references to documents that are not hyperlinks, new terms, and placeholders | For detailed definitions of terms, see the NCCoE Glossary. |
| Bold | names of menus, options, command buttons and fields | Choose File > Edit. |
| | command-line input, on-screen computer output, sample code examples, status codes | |
| | command-line user input contrasted with computer output | |
| blue text | link to other parts of the document, a web URL, or an email address | All publications from NIST's National Cybersecurity Center of Excellence are available at https://www.nccoe.nist.gov. |
2. How-To: Build a Cloud-Based Solution to Mobile Device Security¶
This section of the practice guide contains detailed instructions for creating and configuring the cloud architecture depicted below. No software resources are necessary for this build because it is completely cloud based. The only hardware requirement is that the organization that implements this build uses mobile devices that are compatible with the cloud mobile device management (MDM). This building block chose to use mobile devices running iOS, Android, and Windows Phone — the top three operating systems in terms of market share [1].
This How-To guide details the creation, configuration, and enrollment aspects of each cloud service. Keep in mind, a prerequisite to the cloud is an internet domain name. If the implementer does not already have a domain name, one can be obtained from an accredited registrar [2]. You will need to be able to edit the resource records to prove ownership of the domain.
The implementer will also need access to an Apple developer account to generate a push notification certificate for iOS devices. A push certificate allows the Office 365 instance to send push notifications to enrolled devices. Refer to the Apple website for pricing information and more details regarding certificates [3].
Further, during the configuration of the Office 365 MDM, you will be prompted to allow or block devices from Office 365 that cannot be managed. This can occur when a user has a device with an unsupported operating system. Select Block during this step to enhance the security of Office 365 services.
Finally, we have chosen in this simple cloud build to leverage the MDM capabilities that are available within Office 365. This offers a more limited feature set than what is available through the Intune MDM service. Implementers looking for more capabilities should consider the Intune portion of the Hybrid How-To guide.
2.1. Cloud Build Setup and Configuration¶
2.1.1. Cloud Build Components¶
The following components are used for this building block:
Table 2-1 Cloud Build Components
| Make | Model | Version | Quantity |
| --- | --- | --- | --- |
| Microsoft | Office 365 Tenant | Business Premium | 1 |
| Google | Nexus (Android) | 6 (5.1) | 1 |
| Apple | iPhone (iOS) | 6 (8.3) | 1 |
| Nokia | Lumia (Windows Phone) | 830 (8.10.14219.341) | 1 |
| N/A | Public Domain Name | N/A | 1 |
The cloud building block build process can be completed with the following high-level steps in Figure 2-1. The following sections in the How-To guide will focus on the final two steps.
Figure 2-1 Cloud Build Process

2.1.2. Office 365 Setup¶
Office 365 is the central piece to the functionality of the cloud building block. The only prerequisite to this step is a public domain name. Keep in mind these steps may change as this is a web-based procedure.
To start the process, use a web browser to access the following URL to start the process: https://products.office.com/en-us/business/office-365-enterprise-e3-business-software.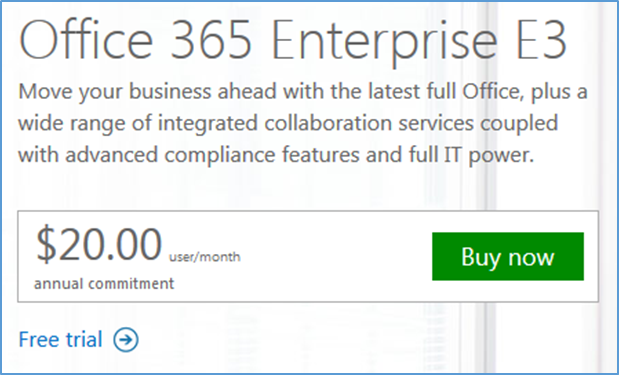 Choose a commitment level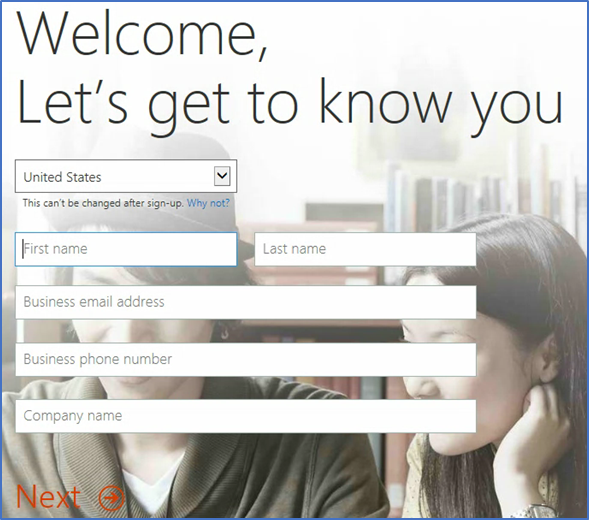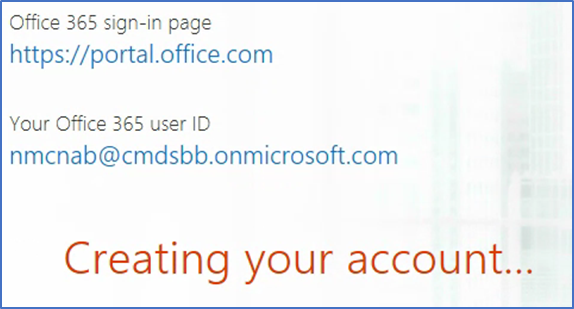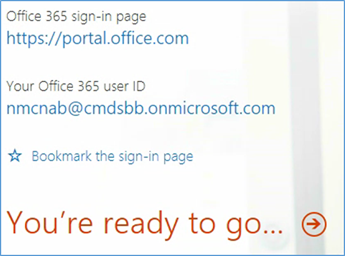 Fill in the requested information in the next several screens

Choose Admin from the set of services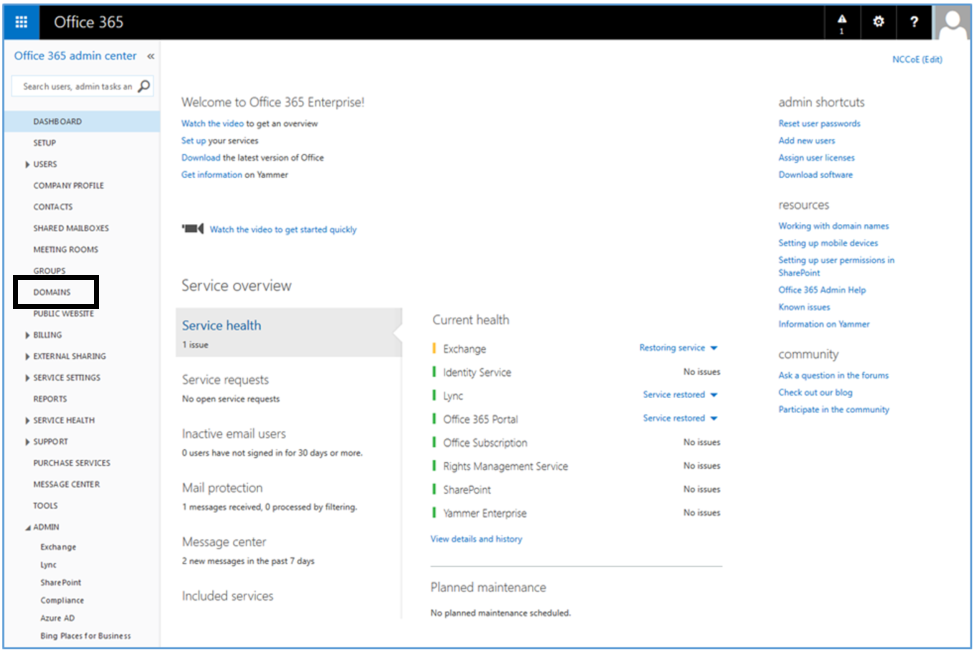 In the next steps, we will configure the domain name with Office 365. Choose the Domains option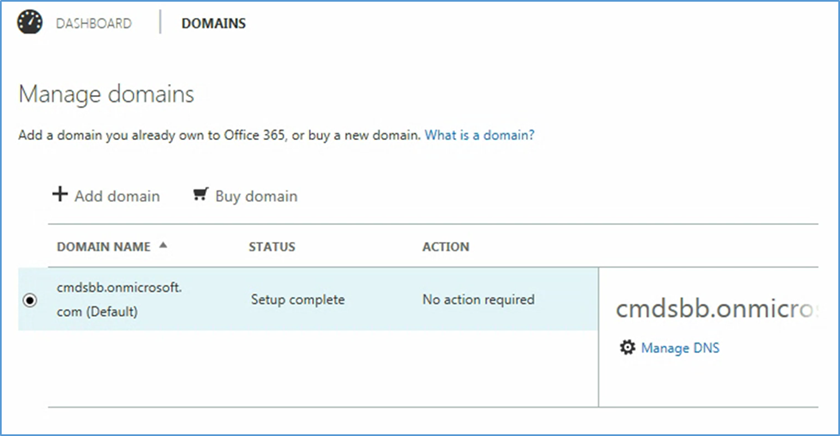 Choose Add domain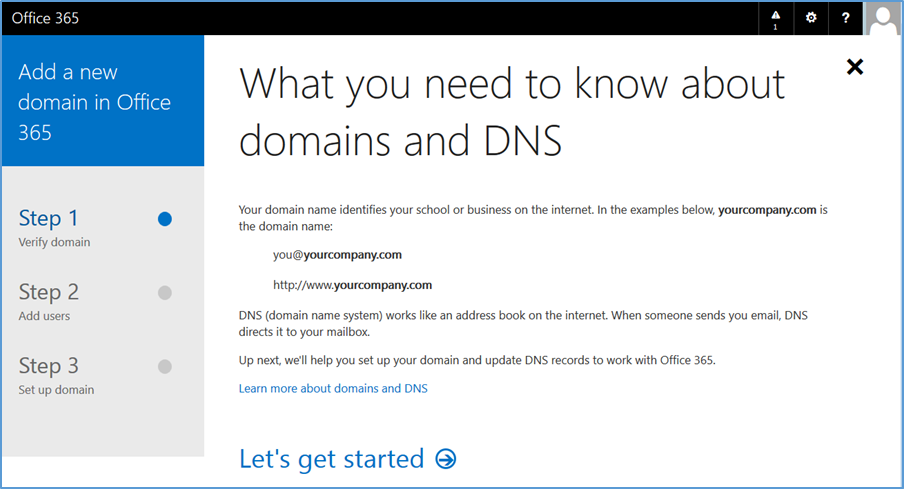 Choose Let's get started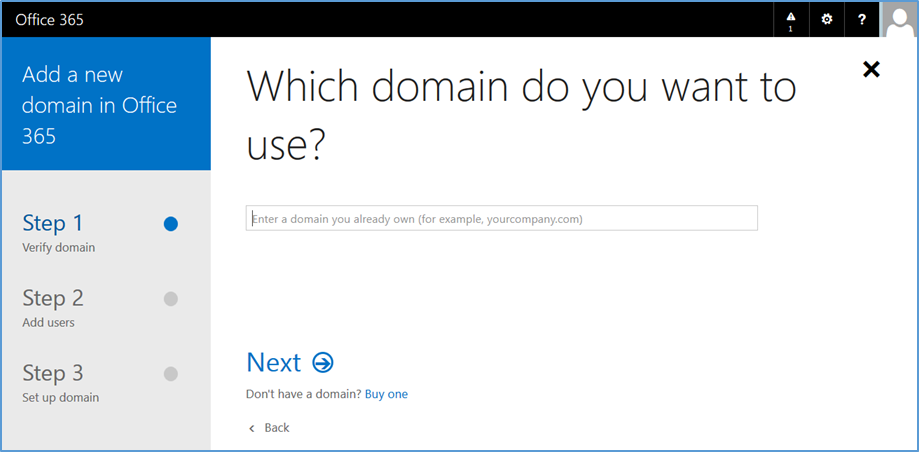 Enter your public domain name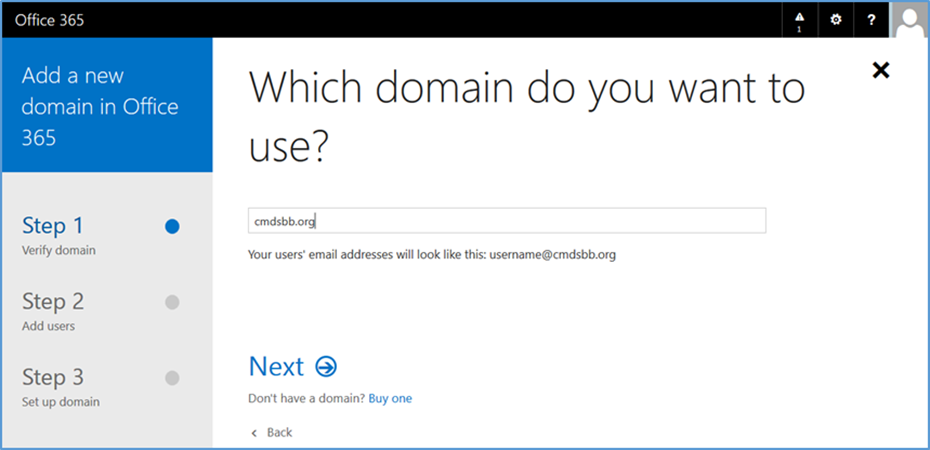 Choose Next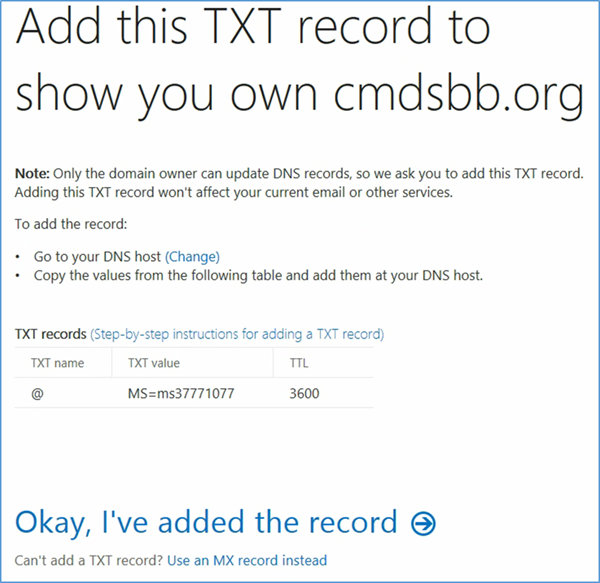 At this point you need to add this information to the TXT record of your domain name. This functionality should be available from your registrar

Verify the Domain Name System (DNS) settings. The TXT record should match what was presented in the previous step. Note that it may take several minutes for the record to propagate to the Office 365 DNS servers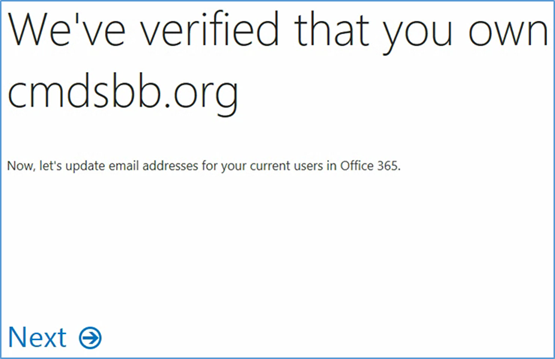 Choose Next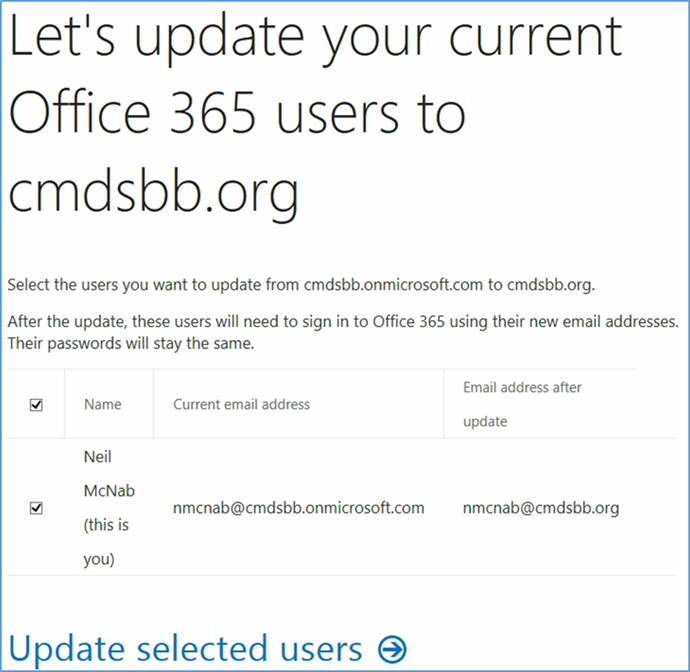 Choose Update selected users

Sign out to complete the change, and then sign in with your identification.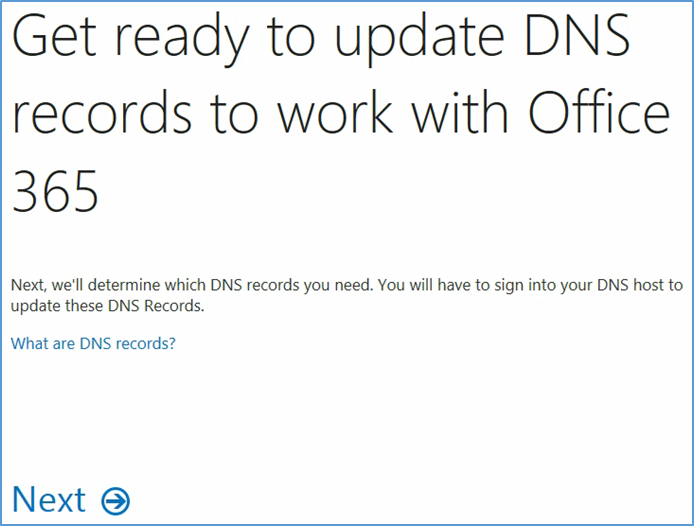 Choose Next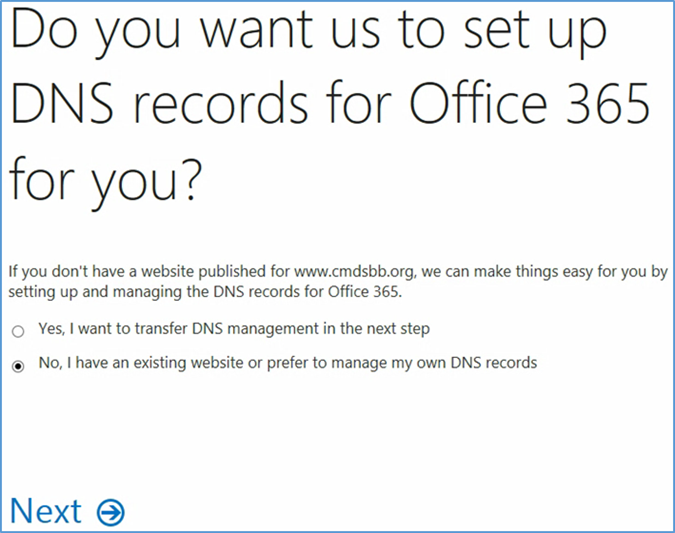 Choose Next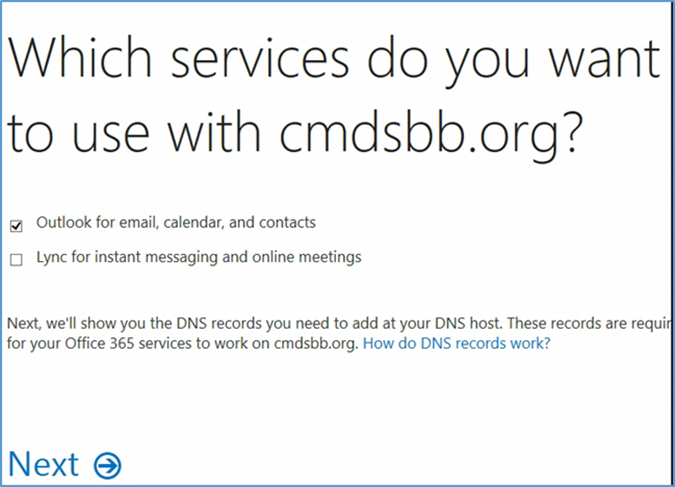 Choose Next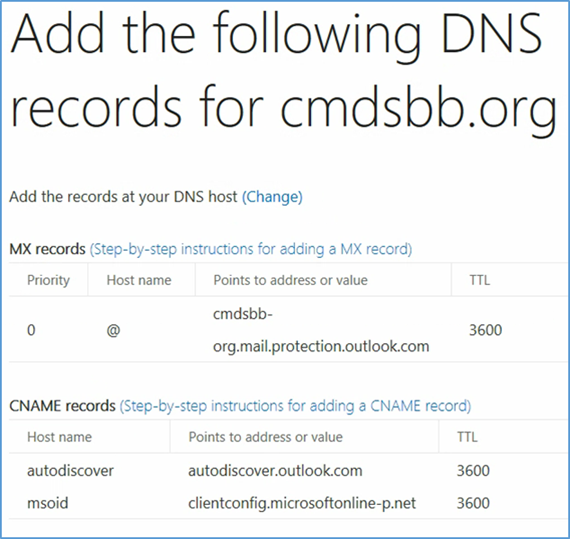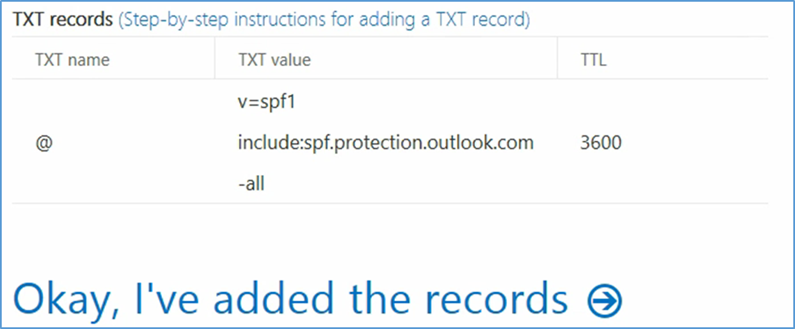 Add the resource records presented in this step to your domain name. These are necessary for full functionality of the Office 365 tenant
2.1.3. Office 365 MDM Setup¶
In the next section, you will be guided through the device management setup through Office 365.
https://portal.office.com/Admin/Default.aspx#IntuneInventoryPage
Choose Get Started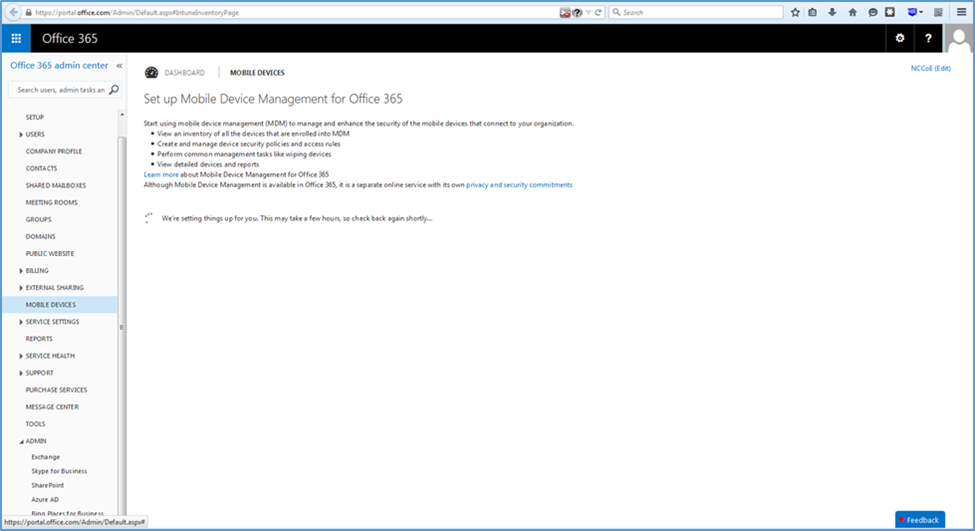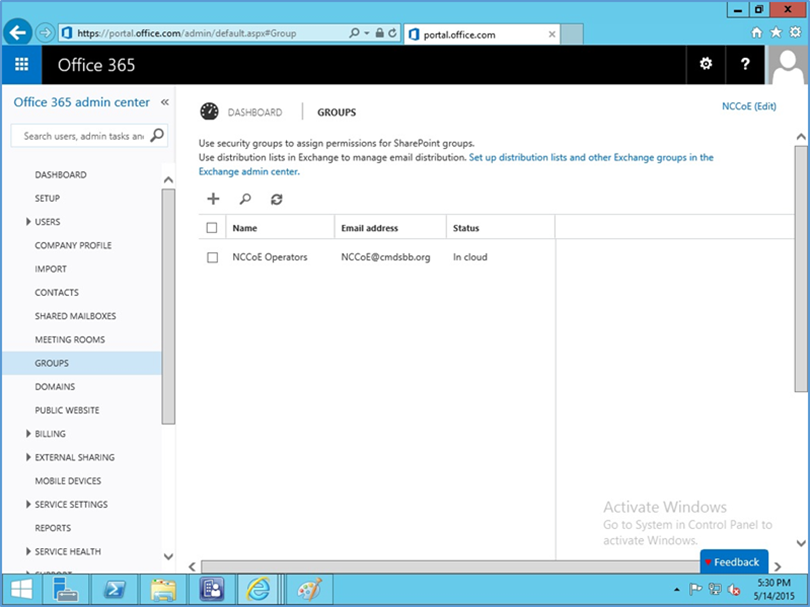 Next, a security group needs to be created in order to apply the policy to a group of users. Navigate to Office 365 > Admin Center > Groups > +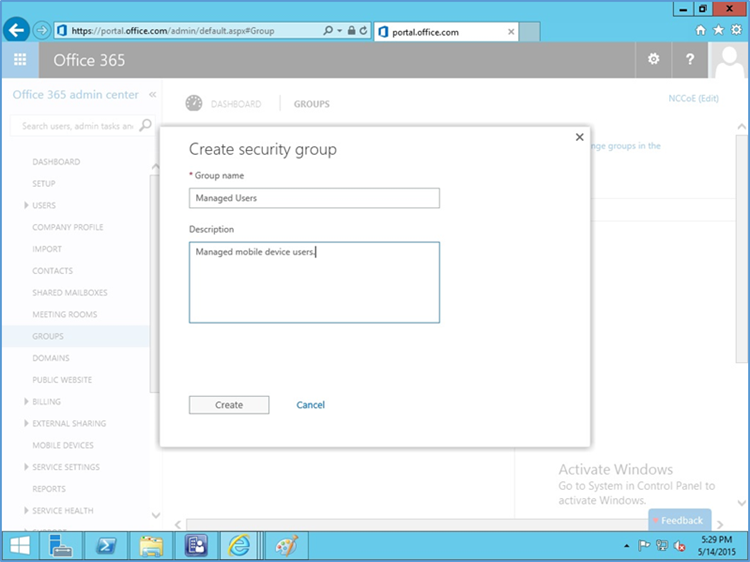 Add a title and description for the group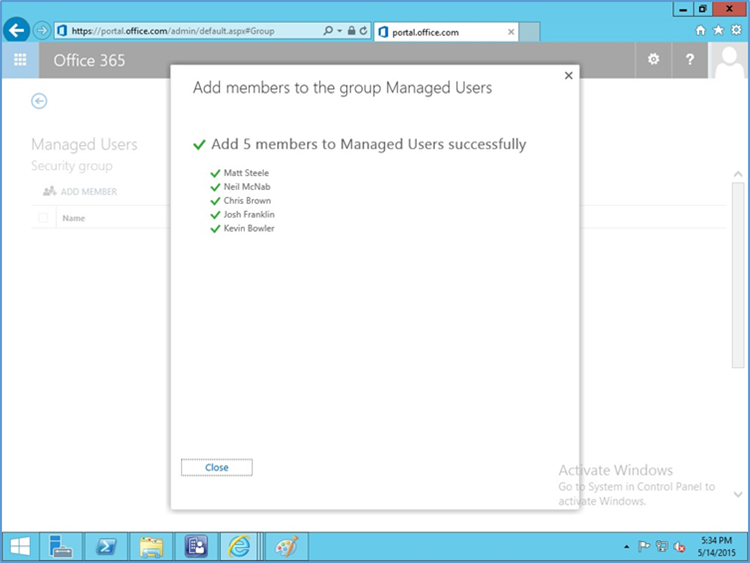 Add members to the group to be managed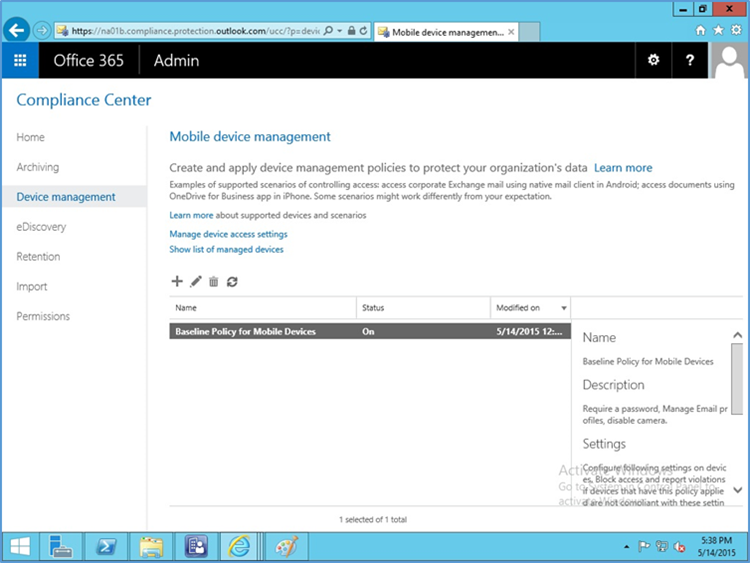 Go to Office 365 > Admin Center > Mobile Devices > Manage device security policies to configure a device policy to apply to enrolled devices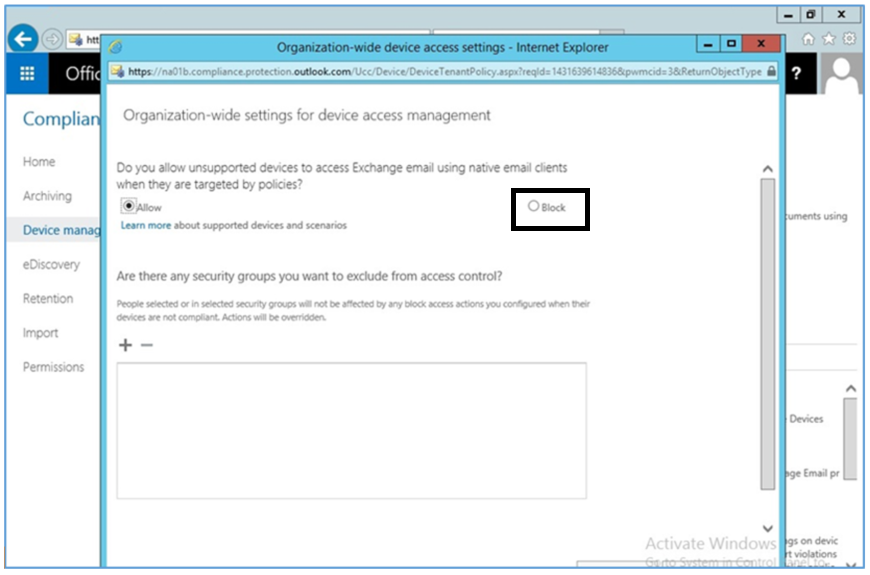 Choose to Block unsupported devices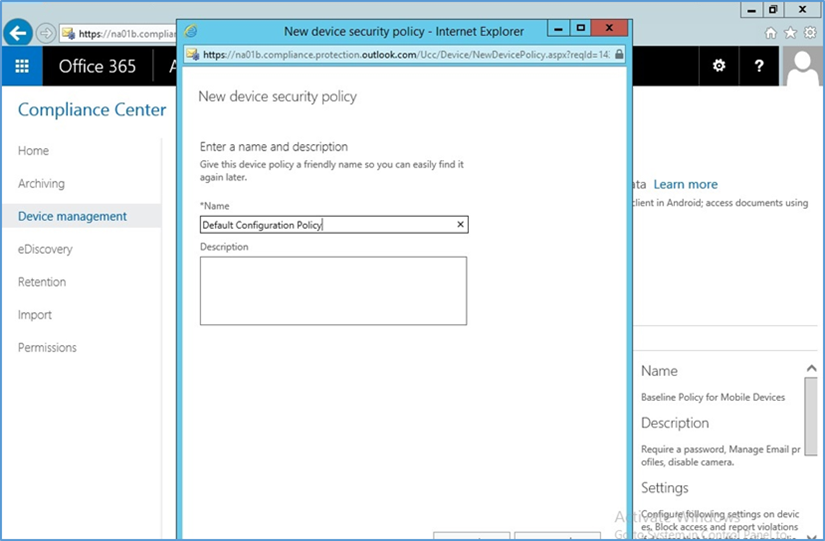 Set the name for the actual device policy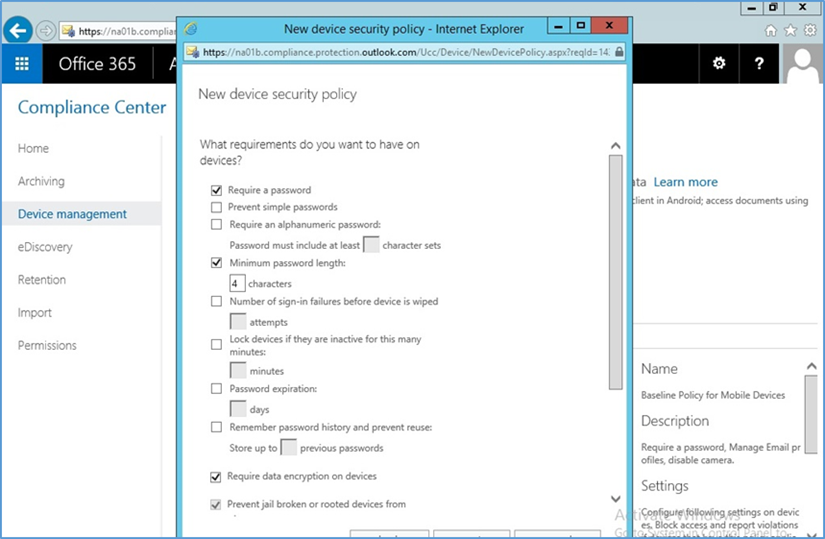 Set rules for the device policy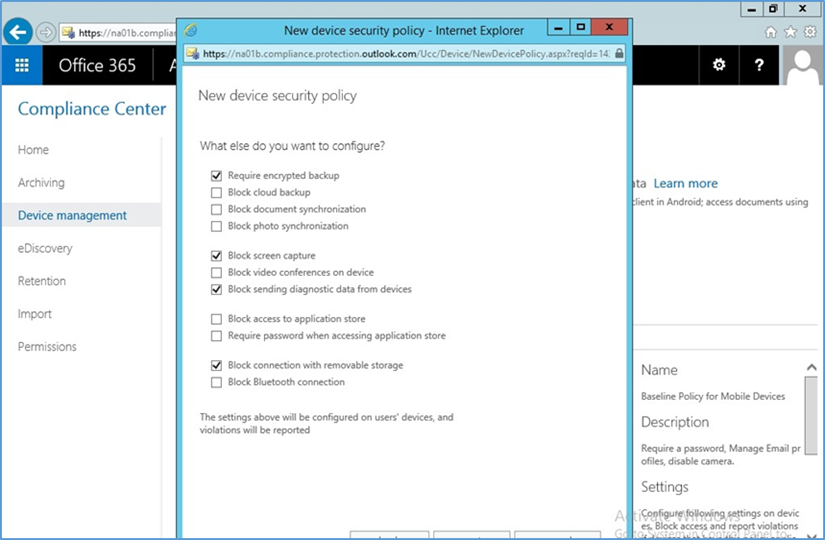 Set additional restrictions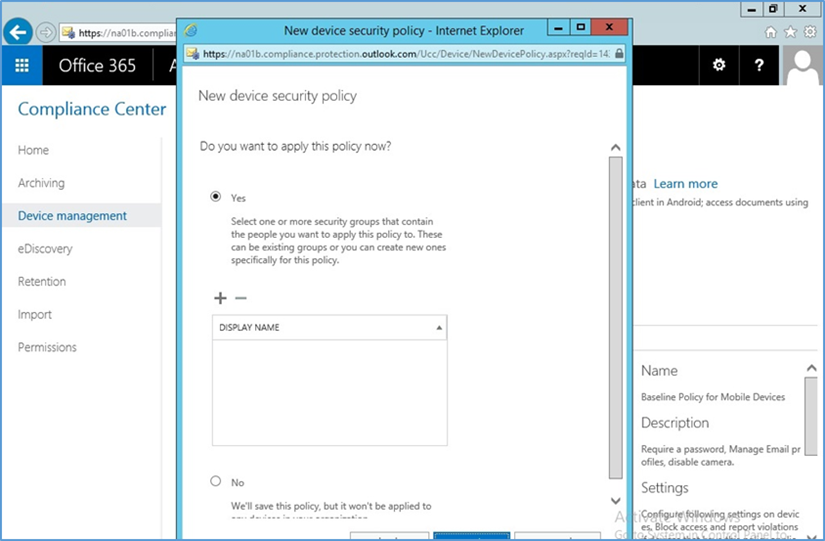 Select whether to deploy the policy and to what group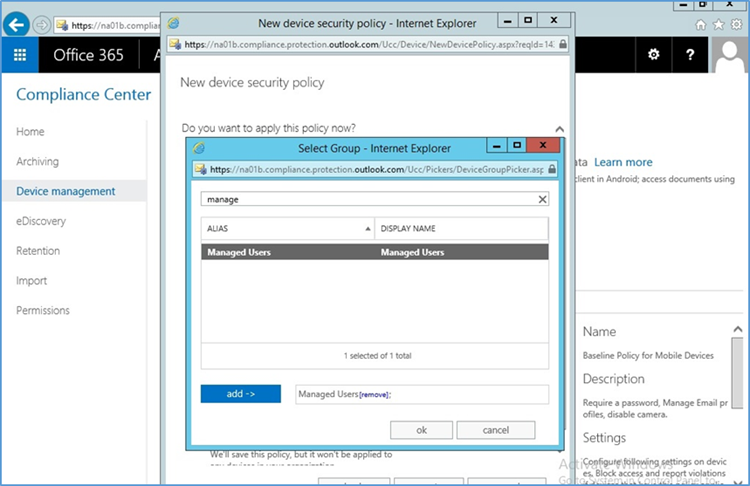 Select the group created earlier to apply the policy
2.1.3.1. Configure Push Certificate for iOS Devices¶
As noted in the introduction to this section, an Apple push notification (APN) certificate is required for full functionality with Apple iOS devices. Only Apple can sign these certificates.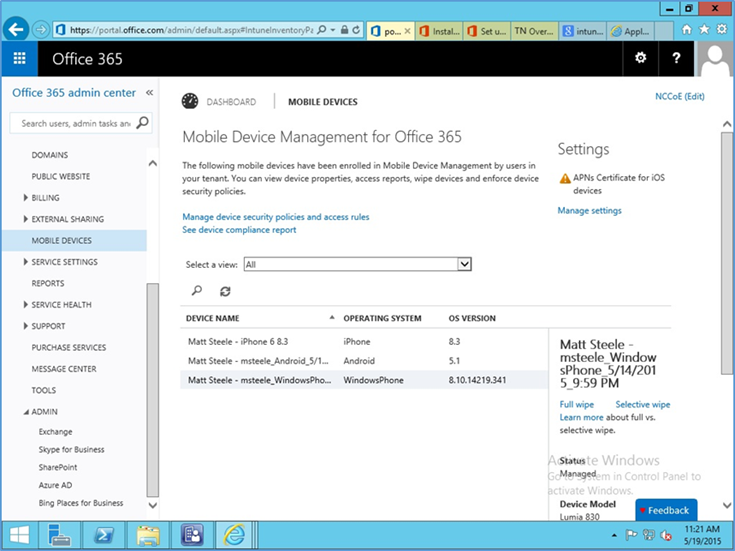 Set up APN in Office 365 > Admin Center > MobileDevices > Manage Settings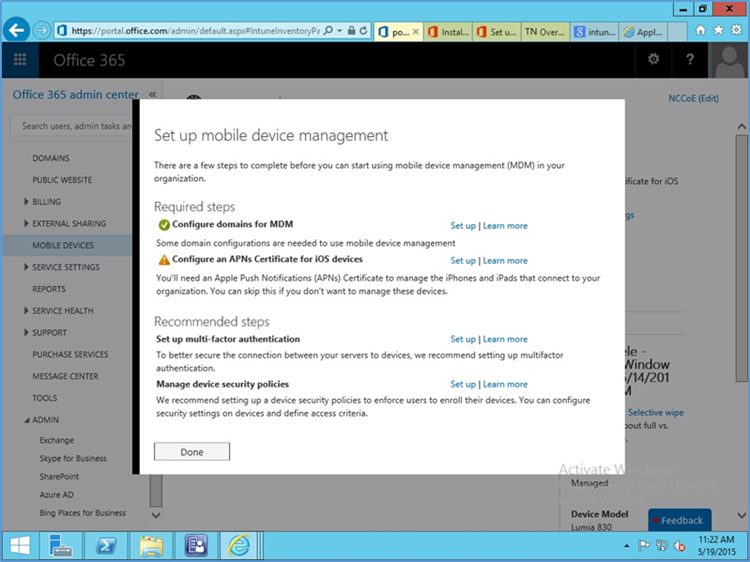 Configure an APNs Certificate for iOS devices > Set up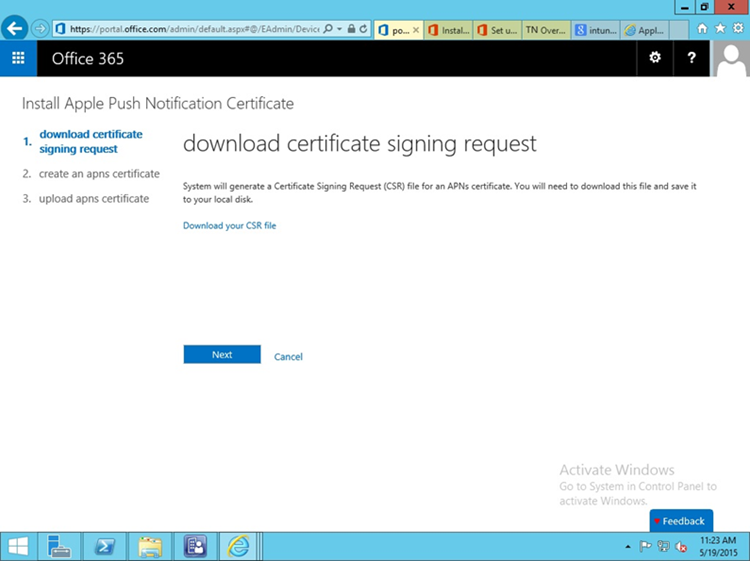 Download certificate signing request (CSR). Once the CSR is generated, it can be submitted to Apple for signing. Use a browser to visit: https://identity.apple.com/pushcert/.

You will be prompted for your Apple Developer account credentials. Sign in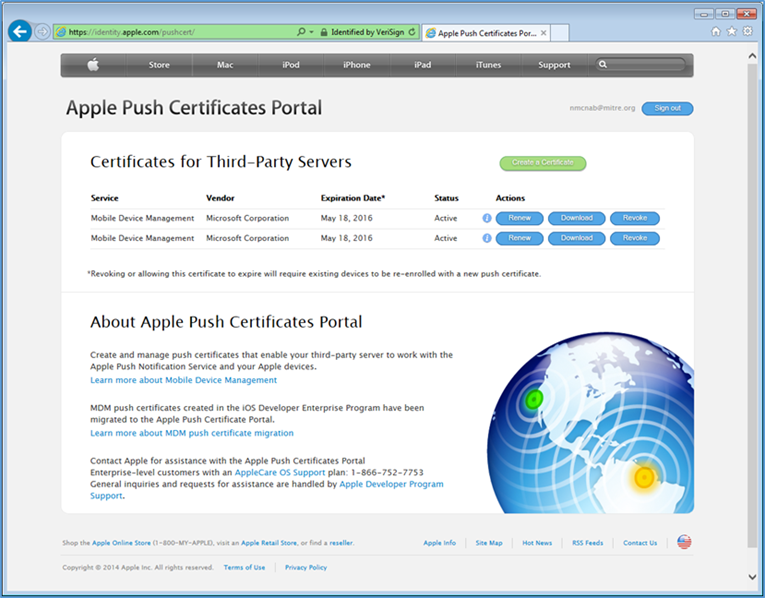 Once authenticated, choose Create a certificate. Review the terms and conditions screen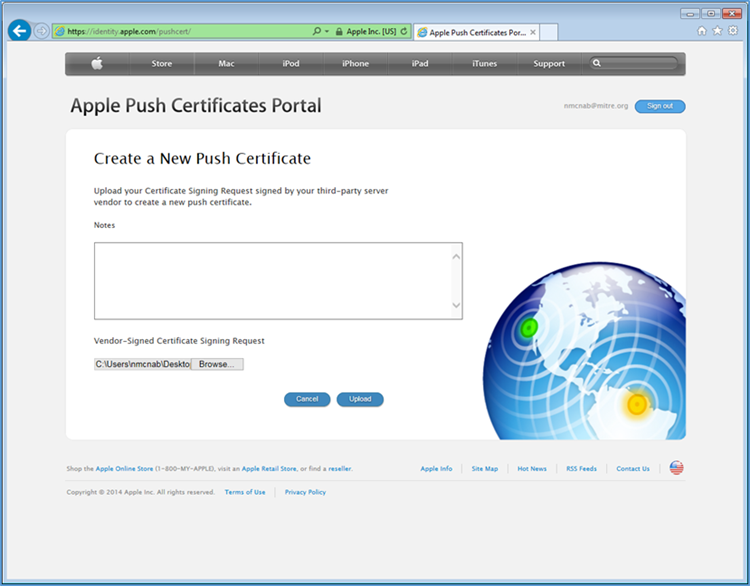 When creating the certificate, you will be presented with a screen to submit your CSR. Use the Browse button to navigate to where you stored your CSR file and choose Upload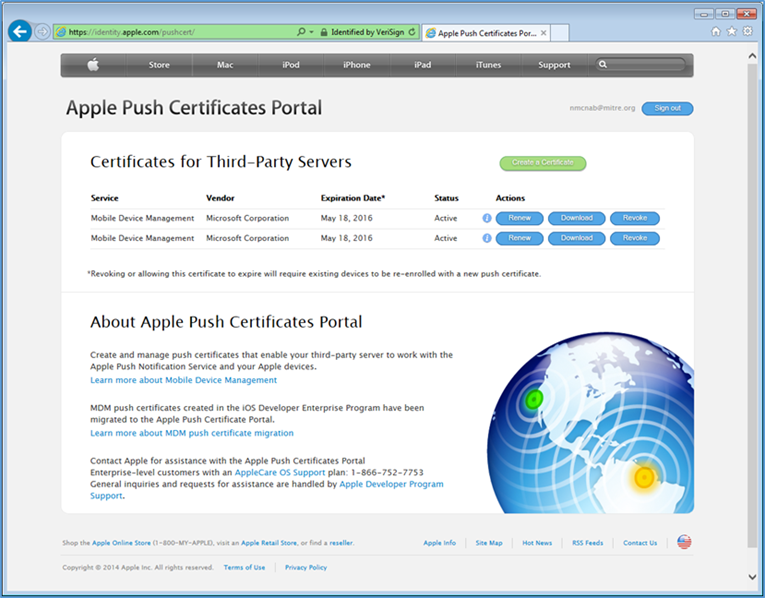 After the upload, refresh the page. You will be presented with a list of signed certificates. Choose the download option for your new certificate, which will allow you to save the signed certificate in privacy enhanced mail (PEM) format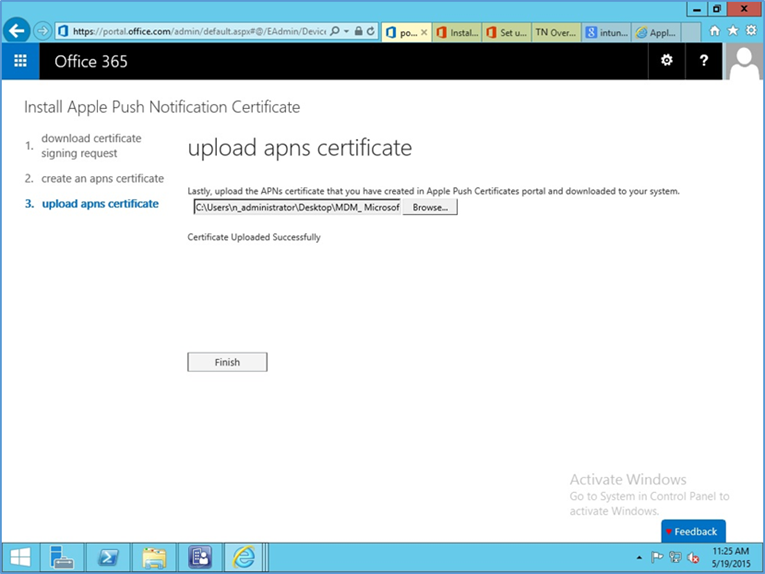 Return to Office 365, and upload the signed APN certificate from Apple's developer portal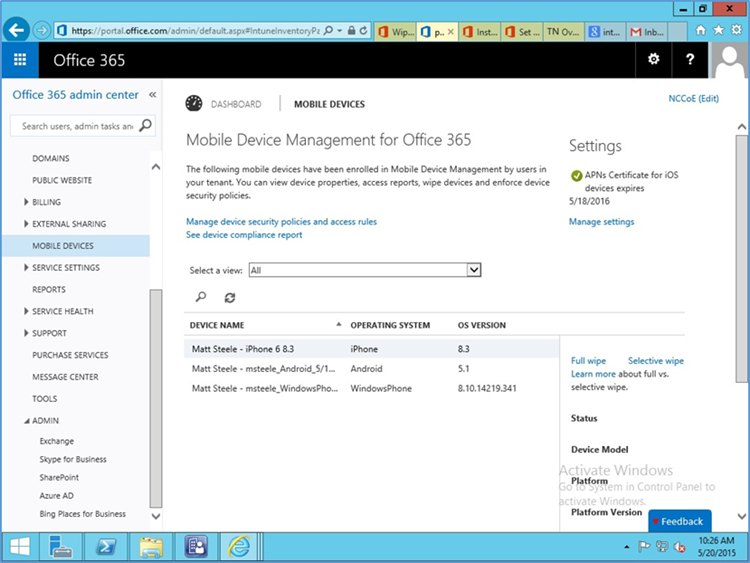 Verify that the APN is working correctly. It should have an expiration date listed
3. How-To: Build an On-Premises Solution for Mobile Device Security¶
3.1. Hybrid Build Setup and Configuration¶
Figure 3-1 depicts the high-level procedures to reproduce the hybrid build used in this building block. First, the implementer must own an internet domain name or have permission to edit resource records within a domain. This is a prerequisite to integration with the cloud services used within this build. The next set of steps configure the on-premise components. The procedures assume that no on-premise components have been installed, however implementers may wish to skip to the configuration sections if these components are already in place. In general, this guide defers to vendor documentation for installation procedures. The final set of steps instantiate the cloud services and integrate them into the on-premise components.
Figure 3-1 Hybrid Build Process

An important prerequisite to using Active Directory Federation Services (ADFS) in this hybrid arrangement is a third-party public key certificate issued from a reputable certificate authority. In this build we used Symantec's Secure Site Pro service. You may also want to purchase a third-party certificate to secure the Transport Layer Security channel on the system that hosts the application proxy to avoid web browser warnings/errors when users authenticate to the enterprise. Please refer to TechNet articles [4] and [5] for specific requirements.
Finally, there are several cloud-based services that provide functionality similar to the one chosen in this build. We use Microsoft's Office 365 for email/calendaring/contacts management and Intune to manage mobile devices. The implementer should note that email/calendaring/contact and MDM from different vendors may not offer the same out-of-the-box integration as what we have chosen here. For example, we have set a compliance rule that forces the mobile device to be enrolled with the MDM before it is given access to email/calendaring/contacts.
3.2. Hybrid Detailed Architecture¶
The following architecture diagrams depict the final architecture of the hybrid build after implementing this guide. Figure 3-2 calls out the various protocols implemented among the on-premise, cloud, and mobile device components. Figure 3-3 is a similar view but details the network addressing and host names that were used during the build.
Figure 3-2 Detailed Architecture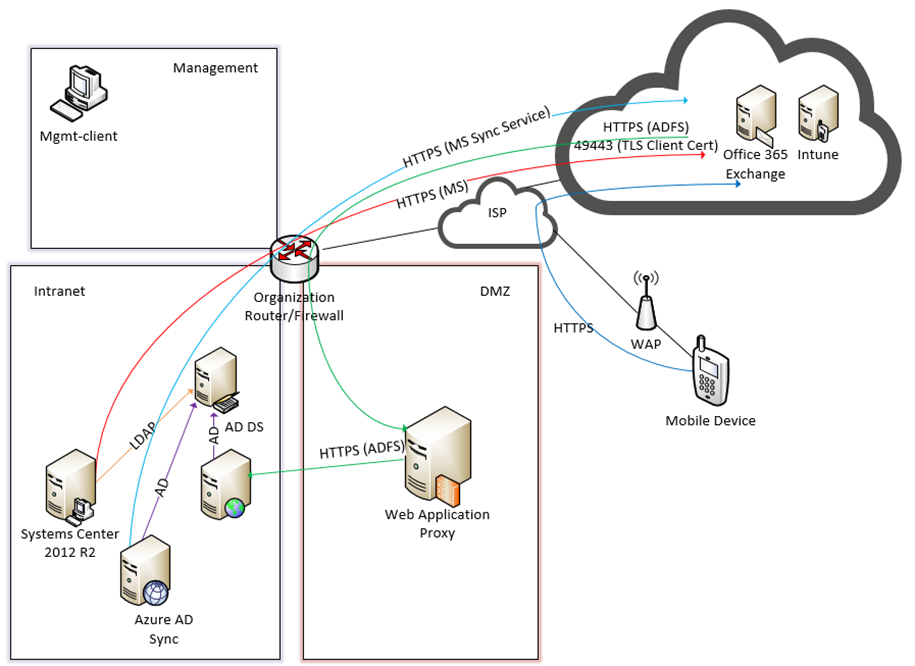 Table 3-1 Legend for Detailed Architecture Diagrams
| Acronym | Term |
| --- | --- |
| AD | Active Directory |
| ADDS | Active Directory Domain Service |
| ADFS | Active Directory Federation Services |
| DMZ | Demilitarized Zone |
| HTTPS | Hyper Text Transfer Protocol Secure |
| ISP | Internet Service Provider |
| LDAP | Lightweight Directory Access Protocol |
| MGMT | Management Network |
| TLS | Transport Layer Security |
| WAP | Wireless Access Point |
Figure 3-3 Detailed Architecture with Network Addresses and Host Names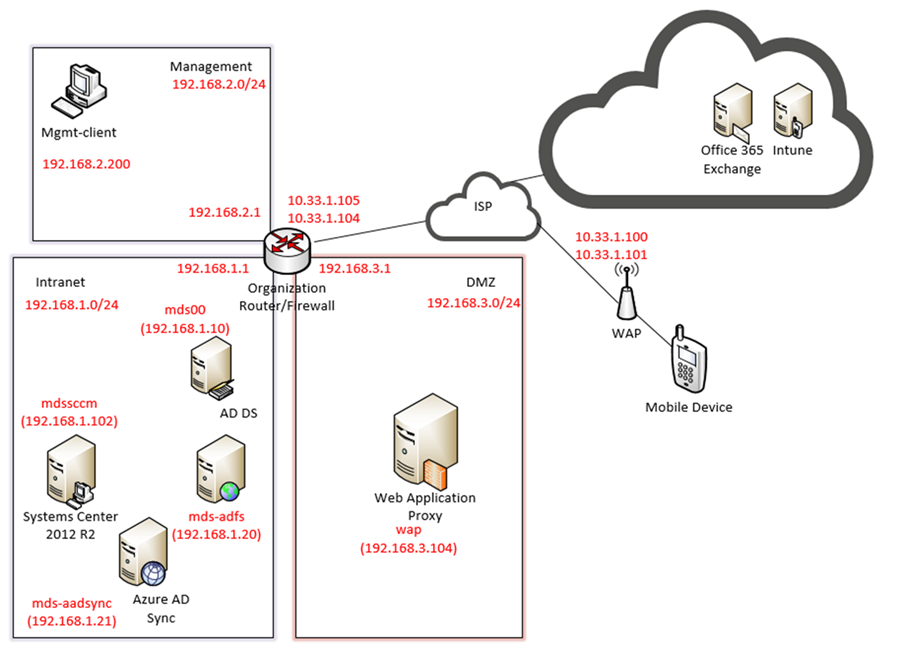 4. How-To: Device Configuration¶
The following section steps through the configuration of devices. This section is applicable to both the cloud and hybrid builds. Here, we feature enrollment and email configuration with iOS, Android, and Windows Phone operating systems.
4.1. Device Enrollment with Office 365¶
The following sections depict the enrollment process of an iOS and Android device to the Intune enterprise mobility management service. The reader should note that the Intune service will automatically redirect the user to the Intune tenant owner's authentication service based on the domain part presented in the user's email address. The authentication service must be accessible via the internet if users enroll remotely. Otherwise, an organization must make its authentication service available on a local network accessible by device users.
Instruct device owners to download the Company Portal application through the application distribution point of their platform to start the enrollment process. The URLs for iOS and Android devices are https://itunes.apple.com/us/app/microsoft-intune-company-portal/id719171358?mt=8 and https://play.google.com/store/apps/details?id=com.microsoft.windowsintune.companyportal&hl=en respectively. This is not necessary for Windows Phone devices because MDM management through this service is native to the device.