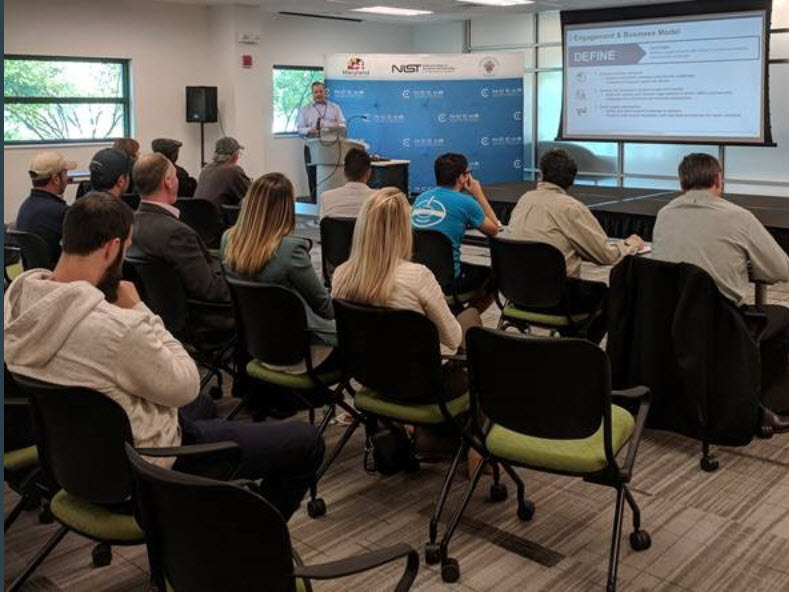 As part of a weeklong initiative called 'DC CyberWeek' (hosted by CyberScoop) to raise awareness in the cybersecurity community, the National Cybersecurity Center of Excellence (NCCoE)—part of NIST—hosted an event called 'Coffee, cookies, and cybersecurity' in Rockville, MD on October 19th. Montgomery College was a big part of the event and over half of the day's participants were from the school's Cybersecurity Club, which uniquely provided fresh ideas and perspectives to the event.
The event was kicked off with a welcome keynote presentation by Tim McBride, Deputy Director of the NCCoE. Then, attendees were given an overview of NCCoE projects, saw live demos, and participated in roundtable discussions with subject matter experts from NIST. Roundtable discussions covered data integrity, identity and access management, and health IT cybersecurity topics. In all, over 40 attendees and cybersecurity influencers gathered together to learn, discuss cybersecurity, ask questions, and share feedback directly with NIST cybersecurity influencers during this successful event.
Attendees had a chance to tour the NCCoE labs while NIST leadership took a moment to share real use cases from the community. For example, positive feedback from utility companies regarding identity and access management adoption and work done by behavioral psychologists helped attendees better understand the practical applicability of the NCCoE's work. Participants ultimately learned a lot about cybersecurity activities that affect us on a daily basis and were interested to hear about specific projects.
Attendees were also particularly interested in NIST cybersecurity publications (like recent NIST practice guides and special publications). The visitors spent a lot of time discussing how the publications impact their day-to-day work—and data integrity was decided by the group to be the most universally applicable of the projects discussed since it applies to any organization or industry.
As the event came to a close, a lot of insightful questions were raised and attendees had a chance to share their perspectives with NIST leadership. Feedback about the importance of the NCCoE continuing to share successes, project outcomes, and publications was among the most common feedback of the day. Some potential future partnership opportunities were also discussed—and some new professional relationships were formed which could be beneficial for the future success of the NCCoE.