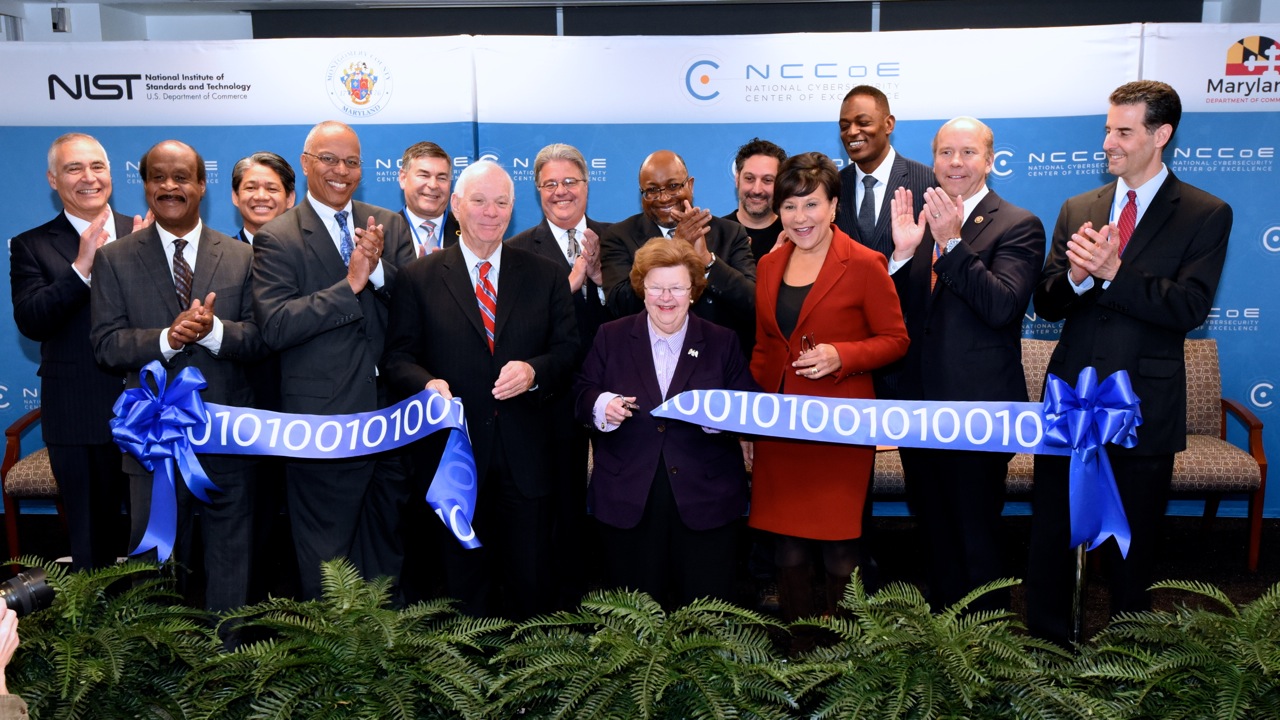 On February 8, 2016, the National Institute of Standards and Technology (NIST) hosted a ribbon cutting and building dedication ceremony for the National Cybersecurity Center of Excellence's (NCCoE) new facility in Rockville, Md. Representing the public-private collaboration at the center, Commerce Secretary Penny Pritzker, Senator Barbara Mikulski, Senator Ben Cardin, Rep. John Delaney, Rep. John Sarbanes, Maryland Lt. Governor Boyd Rutherford, Montgomery County Executive Ike Leggett, and Under Secretary of Commerce for Standards and Technology and NIST Director Willie May participated in the ribbon cutting.
After being temporarily housed at the Universities at Shady Grove, a campus community of nine Maryland universities, NIST worked with the State of Maryland and Montgomery County to identify and procure a permanent facility for the center. The NCCoE now has a 5,574 square-meter (60,000 square-foot) facility with 22 labs, including two bays large enough to hold vehicles and other large equipment for cybersecurity testing.
Following the building dedication ceremony, senior elected and government officials, and CEOs from several large technology corporations, including several NCEP partners, led panel discussions on increasing consumer confidence in cybersecurity and the importance of collaboration. The NCCoE also highlighted renewed collaborative commitments from its partners, including Intel and Hewlett Packard Enterprise designating an employee to serve as NIST Guest Researchers. Other partners committed to continuing their support of specific NCCoE projects with technical expertise and resources.
"The National Cybersecurity Center of Excellence is a powerful example of what can be accomplished through government-industry partnership," said Haiyan Song, Senior Vice President for Security Markets at Splunk. "Splunk is excited to be working with NCCoE to drive improvements in cybersecurity in key sectors of the economy."
Gil Quiniones, CEO of New York Power Authority (NYPA), announced at the event that the organization will be the first utility to adopt the new NIST guide, Identity and Access Management for Electric Utilities. This guide maps security characteristics to guidance and best practices from NIST, other standards organizations, and NERC CIP. Quiniones noted that the implementation will allow NYPA to more securely and efficiently manage access to its networked devices and facilities. 
"It is absolutely critical to address cyber threats with as much urgency as we do public health crises, natural disasters, and war-time threats," said Secretary Pritzker. "We need every company and every sector to bring their cybersecurity issues to the center and work with us to find and implement innovative solutions."
The event concluded with NCCoE staff and partners demonstrating several of the center's current projects that address challenges faced by organizations across U.S. business sectors, including identity management, mobile device security, online identity authentication, data integrity, situational awareness and IT asset management. The event was streamed live online. View the ribbon cutting ceremony video. A recording of the entire event will be available next week on the NIST website.
Read NIST Director Willie May's article on the event, Strengthening Public-Private Cooperation on Cybersecurity's Toughest Issues.
Additional Event Coverage
Associated Press: Officials celebrate expansion of cybersecurity center
Senator Mikulski: Mikulski Cuts Ribbon on Expanded NIST Cybersecurity Center of Excellence in Montgomery County
Emergency Management: Cybersecurity Challenges, Opportunities Discussed at Dedication of Expanded National Cybersecurity Center of Excellence
ExecutiveGov: NIST Unveils Facility for National Cybersecurity CoE; Willie May Comments
Government Technology: Cybersecurity Challenges, Opportunities Discussed at Dedication of Expanded National Cybersecurity Center of Excellence
Fedscoop: CISA is the beginning of a very long cybersecurity fight
NCCoE: Event listing and agenda