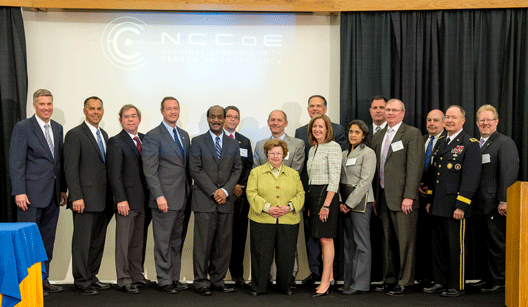 Yesterday afternoon, U.S. Senator Barbara Mikulski, Governor Martin O'Malley, Montgomery County Executive Ike Leggett and General Keith Alexander, Director of the National Security Agency, joined the NCCoE and our colleagues for the inaugural signing of National Cybersecurity Excellence Partnerships (NCEP). Patrick Gallagher, Under Secretary of Commerce for Standards and Technology and Director of the National Institute of Standards and Technology, served as master of ceremonies for the event.
NCEP is a formal mechanism for partnering with the NCCoE in which a company contributes hardware and software components and shares best cybersecurity practices and personnel with the center to address cybersecurity threats. Eleven companies were celebrated as NCEP participants.
The following individuals participated in the signing ceremony on behalf of their companies:
Greg Akers, senior vice president, advanced security initiatives, R&D and product assurance, Cisco Systems Inc.
Ned Miller, global chief technology officer of enterprise security products, Hewlett-Packard
Hemma Prafullchandra, chief technology officer and senior vice president of HyTrust Inc.
David Patterson, president of Intel Federal, LLC
Thomas Gann, vice president of government affairs for McAfee Inc.
Vernon Lee, Chief Technology Officer, Microsoft Federal Civilian Services
Michael Brown, vice president and general manager, RSA federal business
Bill Cull, vice president of federal sales, Splunk Inc.
Gigi Schumm, vice president and general manager, public sector, Symantec Corporation
John Connors, senior professional services consultant, Vanguard Integrity Professionals
Brig Lambert, senior director of federal sales, Venafi, Inc.
You can view video of the event on the NIST YouTube channel, or read the NIST press release.
We extend a warm welcome to our new partners, and thank Senator Mikulski, Governor O'Malley, General Alexander and Executive Leggett for honoring us with their participation yesterday, and for their ongoing support of our work.